Tulsa Surgery Center
The LASIK Vision Institute
4815 S. Harvard Ave
Ste 128
Tulsa, OK 74135
For Appointments Call:
1-800-983-9741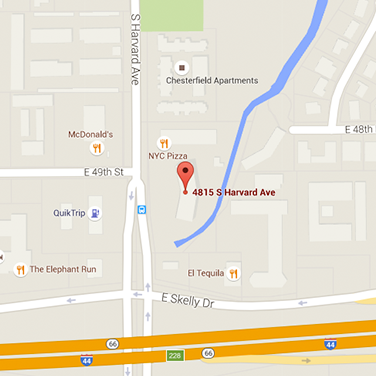 Our Tulsa, OK LASIK eye surgery center serves the following surrounding cities: Oklahoma City, Norman, Broken Arrow, Edmond, Moore.
Google Reviews
★★★★★
Really ethical and honest with patients. Won't try to sell you on anything.
Tess H.
★★★★★
I had my surgery done three years ago, the best decision I've made! I'm still seeing 20/15. I recommend everyone to go get it done!
Sara W.
★★★★★
Great and friendly staff. Procedure was quick and with slight discomfort for a few hours afterwards. My vision is better than before my glasses.
Brad K.
★★★★★
I was hesitant to get LASIK but after talking to a few friends and coworkers that had it done, I decided to do it. LVI in Tulsa was great. Very professional, up front and informative. There were no hidden costs, no catches, nothing. I had a fairly mi… Read More +ld prescription before but I went today for my one month follow up and was able to see 20/10 with both eyes and 20/15 in each with the other closed. The appointments have all been quick and easy. The longest one obviously was the operation day and I was there for 3ish hours. As far as the surgery, it wasn't painful, just weird feeling. And for about 2.5-3 hours after my eyes burned like crazy (which I was told to expect), but after that it was like a switch flipped and it was gone. I was able to see better that evening than when I woke up that morning and it's been even better since. I highly recommend LASIK and LVI in Tulsa. LASIK isn't cheap but it's well worth it.
btgraves17 K.
LASIK Doctors Servicing This Location:
More LASIK Eye Surgery Centers Nearby: