St. Louis Surgery Center
The LASIK Vision Institute
425 N New Ballas Rd Suite 230
Creve Coeur, MO 63141
For Appointments Call:
314-819-7992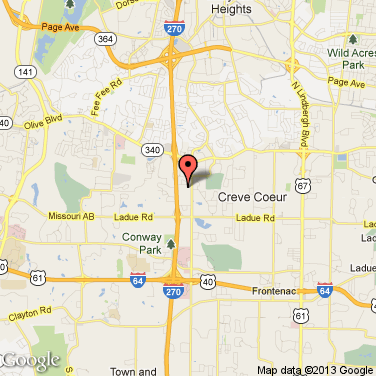 Our St. Louis, MO lasik eye surgery center serves the following surrounding St. Louis area cities: Creve Coeur, Chesterfield, O'Fallon, Bridgeton, Brentwood, and St Charles.
LASIK Doctors Servicing This Location:
George Joseph
Dr. George Joseph is a fellowship-trained ophthalmologist and has performed over 100,000 LASIK surgeries and nearly 20,000 cataract procedures. He earned his degree from Georgetown University Medical ...
Michael Insler
Dr. Michael Insler is a graduate of the University of Miami Medical School and is an experienced and well-respected refractive surgeon. Dr. Insler has performed over 50,000 surgeries...
Charles Miller
Dr. Charles Miller has been in practice for over 20 years and is an experienced ophthalmologist and refractive surgeon. Dr. Miller has performed thousands of laser vision correction procedures and s...
More LASIK Eye Surgery Centers Nearby:
Kansas City Office
8500 West 110th Street, Suite 200
Overland Park, KS 66210

Tulsa Office
4815 S. Harvard Ave
Tulsa, OK 74135