St. Louis Surgery Center
The LASIK Vision Institute
425 N New Ballas Rd Suite 230
Creve Coeur, MO 63141
For Appointments Call:
314-819-7992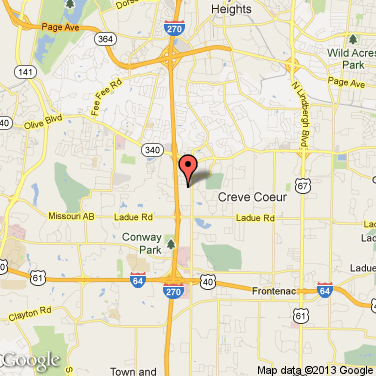 Our St. Louis, MO LASIK eye surgery center serves the following surrounding cities: Creve Coeur, Chesterfield, O'Fallon, Bridgeton, Brentwood, & St Charles.
Google Reviews
★★★★★
Staff was very kind and welcoming. They explain and answer all your questions and concerns in a professional way. I'm so glad I came here to get my lasik done. Today is my follow up from lasik I had done yesterday and have 20/10 vision! Highly recomm… Read More +end Lasik Vision Institute! Dont wait any longer, if your considering Lasik, call today and set up and appt!
Katie B.
★★★★★
Awesome facility . I would highly recomend lasik . Everyone from start to finish were very helpful and nice. ... Thank you Karen and all the staff .
Wendy S.
★★★★★
Great experience! Surgery in 2016 and I've been great since. I had worn glasses since age 6 and 20 years later became glasses-free! AWESOME office and staff, and Karen has been super sweet and understanding! Highly recommend!
Courtney T.
★★★★★
Friendly and accommodating team! Everyone worked hard to make the process as smooth and relaxing as possible. Plus, I can see better now than with my old contacts!
Emily W.
LASIK Doctors Servicing This Location:
More LASIK Eye Surgery Centers Nearby: