San Francisco Surgery Center
The LASIK Vision Institute
1250 Bayhill Drive, Suite 305
San Bruno, CA 94066
For Appointments Call:
1-800-983-9741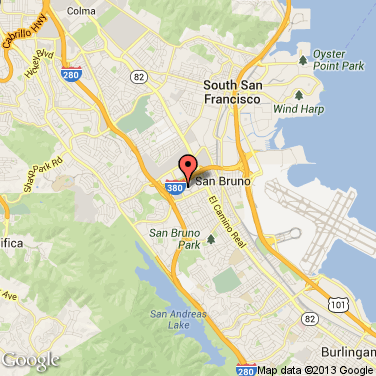 Our San Francisco, CA LASIK eye surgery center serves the following surrounding cities: San Bruno, San Mateo, Redwood City, Daly City, Mountain View, San Jose, South San Francisco.
Google Reviews
★★★★★
So far the best decision I've ever made concerning my eyes. I went from about 20/200 eyesight to 20/15 with the cost being comparatively lower than other places. I only had a couple days of discomfort then I was back to normal. Dr. Bavand Youssefzade… Read More +h is a wonderful doctor who makes you feel very relaxed and the rest of the staff are amazing too! In short, it's worth every single penny. I can't think of a single bad thing to say about this place. The pricing can't be beat, the surgery/recovery are painless (or as much as they could be), and the staff are phenomenal. If you have any doubts about getting LASIK, go for a consultation (it's free anyway) and they'll all disappear.
Phillip B.
★★★★★
The staff at San Bruno LVI are very professional and reassuring during the entire LASIK experience from consultation, surgery, and follow up. My own LASIK procedure was a success and I am thankful to the entire staff at LVI San Bruno. I have already … Read More +recommended and referred someone to come here.
David S.
★★★★★
The staff at Lasik Vision were incredibly informative and patient (no pun intended) with me as I had many questions regarding lasik. They helped explain the process of diagnosing whether I'm compatible for it and made sure to go over the procedure m… Read More +ultiple times to make I understood everything. The lasik procedure itself was done rather quickly, the doctor and assistants both did amazing to make sure I wasn't nervous or anything. Would recommend to friends, colleagues or anyone who's interested in getting lasik.
WinterGreen S.
★★★★★
Dr.Bavand Youssefzadeh and staff were exceptional They made the entire process easy and answered all my questions. If anyone is interested In getting Lasik, I would highly suggest going to see Dr. Youssefzadeh!! I could not be happier with my result… Read More +s.
Kristina P.
LASIK Doctors Servicing This Location:
More LASIK Eye Surgery Centers Nearby: