Orlando Surgery Center
The LASIK Vision Institute
1800 Pembrook Dr. Suite 120
Orlando, FL 32810
For Appointments Call:
407-586-7992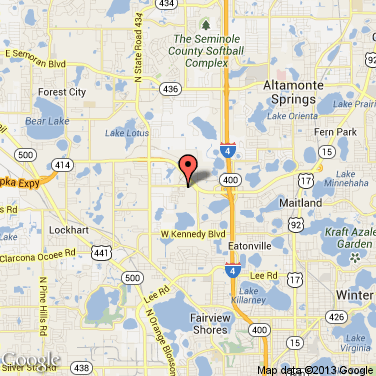 Our Orlando, FL LASIK eye surgery center serves the following surrounding cities: Altamonte Springs, Apopka, Kissimmee, Lake Mary, Maitland & Oviedo
Google Reviews
★★★★★
Short review: the doctor, the surgeon, the staff. All 5/5 stars! Amazing experience. Long review: Going to the LVI has been the best decision of my life! Obviously I was a little nervous contemplating Lasik, but I knew lots of people that have gotte… Read More +n the procedure and after lots of research I decided to look into it. That's when I discovered LVI and their chance to have a free consultation. I went in and the staff was amazing and made me feel very comfortable and addressed every single question and concern. To make things even better, I had the opportunity to have the procedure done the very next day. The procedure went very smoothly, it took like 12 mins in total. I kept telling myself that 12 mins of bravery were well worth the years I can potentially get of being glasses and contact lenses free. Today I arrived from my 1 day checkup and I'm already seeing 20/20! My vision is a little blurry but I know that is totally normal as my eyes heal up. I feel like I was born again! The healing process hasn't been bad at all! So far no huge discomfort. The "hardest" part is the first 6 hours after the procedure. Just follow instructions and keep your eyes closed for as long as possible and go take a nap like they recommend! The wor
Victor R.
★★★★★
My experience with the Lasik Vision was very informative and professional. Employees are awesome.
Angel R.
★★★★★
Wore glasses for 20+ years and finally decided to pull the trigger on Lasik after I lost my only pair of glasses in the ocean. I was planning on checking out a few locations, but started here and have to say that was the best decision I could have ma… Read More +de. From the beginning, the staff makes you feel so welcome, they greet you by name on all of your follow up visits, and always have a smile on their face. During the procedure, the doctor talks you through every step and was very comforting. I couldn't be happier with my results; from 20/200 to 20/10 in less that 24 hours. My only regret is that I didn't do it sooner.
Michael W.
★★★★★
My eyes healed so fast after surgery and my vision is new better than 20/20. The staff is incredibly nice and made the whole experience so easy.
Reed M.
LASIK Doctors Servicing This Location:
More LASIK Eye Surgery Centers Nearby:
Tampa Office
3030 N Rocky Point Dr. West, Suite 170
Tampa, FL 33607