Orlando Surgery Center
The LASIK Vision Institute
1800 Pembrook Dr. Suite 120
Orlando, FL 32810
For Appointments Call:
407-586-7992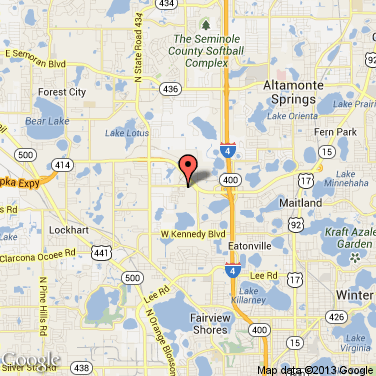 Our Orlando, FL LASIK eye surgery center serves the following surrounding cities: Altamonte Springs, Apopka, Kissimmee, Lake Mary, Maitland & Oviedo
Google Reviews
★★★★★
The LASIK Vision is the place to go and get your eyesite corrected. They are extremely professional in what they do and they back there procedure with a lifetime warranty. I have been so pleased with the outcome that I took my wife to LASIK Vision t… Read More +o have her vision corrected as well. We are both pleased with our results. Thank you LASIK Vision Institute for given me my 20/20 back..
Richard P.
★★★★★
The staff was very professional and thorough in my evaluation exam. Unlike their competitors, they review my eye's measurements and tell me what I am eligible for. When I inquired about monovision, they ordered contacts for astigmatism for me to get … Read More +a real feel instead of rushing for me to make a decision. I decided against monovision and had contoura. The procedure was fast and smooth. I can see 20/20 on the next day even with the medication. Thanks to the staff for o wonderful experience, especially Judy. Highly recommended.
Sam M.
★★★★★
The staff is completly proffessinal...the prosedure was very quik...and now im seeing borderline 20/15...thanks lazik e y e instatute !!!!!
Douglas S.
★★★★★
Vision is my most critical sense and after years of research I landed here. Not all LASIK clinics are the same! This one has the latest technology and the best staff I could have asked for. Yara, Matt, Judy, Doctor Insler and the whole staff are all … Read More +world class. My nerves were settled with all of the reassurance I had received the daydof the surgery and the day after the procedure I was already seeing better than 20:20! Amazing! It's now been a week and I can comfortably say this was the best experience imagineable. If anyone is still doubting, go in for a consultation and watch all doubt be swept away. Thank you LVI staff I love my new eyes!!
Felix P.
LASIK Doctors Servicing This Location:
More LASIK Eye Surgery Centers Nearby:
Tampa Office
3030 N Rocky Point Dr. West, Suite 170
Tampa, FL 33607