New Orleans Surgery Center
The LASIK Vision Institute
2424 Edenborn Ave., Ste 110
Metairie, LA 70001
For Appointments Call:
504-518-7992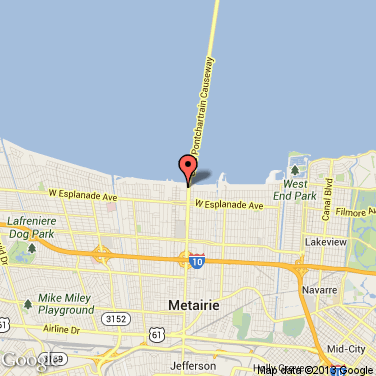 Our New Orleans, LA LASIK eye surgery center serves the following surrounding cities: Metairie, Gentilly, Kenner, Marrero, Laplace, Mandeville, Slidell.
Google Reviews
★★★★★
The entire LASIK Vision Institute staff was amazing. They were very professional and thorough. All of my expectations were exceeded. The procedure was precise, fast and completed without any complications. I would not hesitate to recommend the LASIK … Read More +Vision Institute to my family and friends. I'm soooo glad I decided to have the procedure.
Liz and Kay g.
★★★★★
My experience with LSI was amazing. The staff was great and very informative. Everyone had positive attitudes. The procedure didnt take long at all, about 10 seconds per eye. I was extremely nervous going into the procedure, but it happened so fast. … Read More +I had clear vision by the next day. I would recommend to anyone. 10/10!!!
Keyouna C.
★★★★★
All of the staff at this location is extremely professional, helpful and knowledgeable. Everyone was so friendly from the very first day of my consultation, up until now my second postoperative checkup. I had PRK done on May 11th and let me tell you,… Read More + I am honestly pleased with my results so far. I experienced absolutely NO PAIN what so ever!! I had little to no discomfort for the first three days following surgery. It just felt like something very small was in my eye, but it wasn't unbearable. It was just slightly annoying at times. I had the bandage contact lenses removed today that were put into my eyes directly after surgery. There was no discomfort or complications during the removal or after. My vision haven't completely stabilized yet due to the fact that PRK results are gradual, but I can see so much better now than i've seen without my glasses in years. I'm so excited to be able to read street signs now without my glasses lol. I've worn glasses for 20 years and I'm so happy that I finally decided to go through with the surgery. If anything, I'm upset at myself for waiting so long to have it done. I can't wait to see the end result!! Job well done guys!! Thank you and keep up the great work!
Courtney D.
★★★★★
The first person I met was Shavon ( I know I didn't spell her name right), but she was fantastic, very professional, personable, and a great sense of humor. Then I met Bill, he explained everything in great detail and put me at ease about the Lasik … Read More +procedure. I would recommend them to anyone that is looking for a solution to better vision. Thank you all.
Tracy A.
LASIK Doctors Servicing This Location: