Jacksonville Surgery Center
The LASIK Vision Institute
5210 Belfort Rd, Suite 110
Jacksonville, FL 32256
For Appointments Call:
1-800-983-9741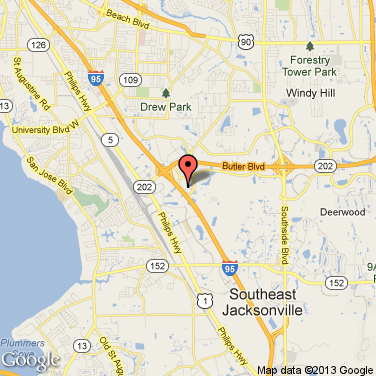 Our Jacksonville, FL LASIK eye surgery center serves the following surrounding cities: Orange Park, St Augustine, Palm Coast, Palatka, & Lake City.
Google Reviews
★★★★★
Great service it's been a month and I'm seeing 20/15 now I'm loving it. I'm in and out of coolers all day so it's been a huge help to me.
Trowa B.
★★★★★
Great service! Doctor is wonderful. I love being able to see without glasses!
Charlotte C.
★★★★★
Performed my lasik in Nov of 2015 and my wife was impressed with it that she did her lasik in march of 2016. its 2019 and we still have our 2020 vision. The doc was great as he constantly talks to you during surgery and makes you feel comfortable. yo… Read More +u will get a pillow to squeeze during surgery and the whole thing lasted about 30 min. The whole ambience is professional and I definitely recommend this place for Lasik.
SanGam N.
★★★★★
I recently took family members (and myself), to Lasik Vision Institute. Not having been there before, I had no idea what to expect...but... the experience was a VERY good one! Walking in the door, we were heartily greeted, welcomed into " the Lasik… Read More + world of medicine!" A sheaf of paperwork was given to each of us, as we met staff members in succession. EVERY member of the Lasik staff was positive, upbeat and genuine. Hey, they offered hot chocolate, coffee and plenty of smiles! Can't beat that! As paperwork progressed, they encouraged every step of the way! Examination time came, and " the Team" went action! During each phase of eye examination, these professionals throughly explained EVERYTHING. I noticed that every single member of this incredible team, "knows their stuff" and they are pros in eye care. After exams, "Q and A summations" then, check out time came. That too was a positive experience. It was very detailed with a complete medical synopsis concisely given. It was informative and literally "an EYE opening experience!" After goodbyes and walking out wearing " Hollywood Dark Shades," all of us reflected on this enjoyable, life changing experience. Normally people don't leave a major medical facility, lau
jeff B.
LASIK Doctors Servicing This Location:
More LASIK Eye Surgery Centers Nearby:
Tampa Office
3030 N Rocky Point Dr. West, Suite 170
Tampa, FL 33607