Jacksonville Surgery Center
The LASIK Vision Institute
5210 Belfort Rd, Suite 110
Jacksonville, FL 32256
For Appointments Call:
1-800-983-9741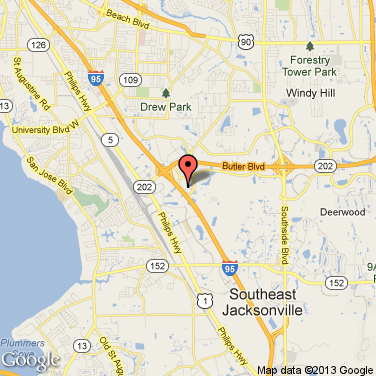 Our Jacksonville, FL LASIK eye surgery center serves the following surrounding cities: Orange Park, St Augustine, Palm Coast, Palatka, & Lake City.
Google Reviews
★★★★★
I have had 20/60 vision for about 15 years now. I refused to wear contacts because I didn't like touching my eyes. Crushed a pair of glasses and have just decided to deal with it since. I took a trip over to the Lasik Vision Institute in Jacksonvil… Read More +le just to see if I would qualify for Lasik out of curiosity. To my surprise I did. I decided to move forward with the procedure and words cannot describe what I am feeling right now. 30 hours post surgery I am seeing 20/15! It's like I have been viewing the world through standard definition TV and jumping right into 4K. I ended up qualifying for the Contura treatment which has made colors more vibrant and everything appear sharper. The team at the Jacksonville office is unbelievable. Between Janet, Dr. Ireland and the ENTIRE staff I would get the procedure done again and drive across country to do so. They made me feel more than comfortable during the entire process and the procedure itself was so simple. They run numerous pre op tests to ensure quality of the treatment and hand hold you through post op requirements so you know exactly what to do. I am pain free and feeling 0 discomfort. I HIGHLY HIGHLY recommend the Lasik Vision Institute in Jacksonville. They have literally chang
Dominic D.
★★★★★
Well let me start off by saying I was so nervous !!! I have only had 1 surgery in my life and this 1 was optional 😂😂. The process was super easy, the optometrist was super sweet and knowledgeable (answered every single question). The Financial … Read More +lady (Janet), the receptionist was super fun and all the team made this process easy. I would recommend this for anyone who is considering this step in life. The laser took 5 minutes in total. Best money spent and no more GLASSES !! 🤓🤓 Don't suffer with glasses when you can enjoy life without them 😊😊 FYI surgery was done Thrusday 6/13 and follow up today, I was told I was already seeing in 20/20 6/14. Best money spent 🤩🤩
Tario O.
★★★★★
Great Job Very respectful and helpful staff
John F.
★★★★★
Staff was great and friendly, procedure was quick and easy. Definitely recommend if you've been thinking of getting lasik done!
christian o.
LASIK Doctors Servicing This Location:
More LASIK Eye Surgery Centers Nearby:
Tampa Office
3030 N Rocky Point Dr. West, Suite 170
Tampa, FL 33607