Columbus Surgery Center
The LASIK Vision Institute
440 Polaris Parkway, Suite 325
Westerville, OH 43082
For Appointments Call:
1-614-681-7200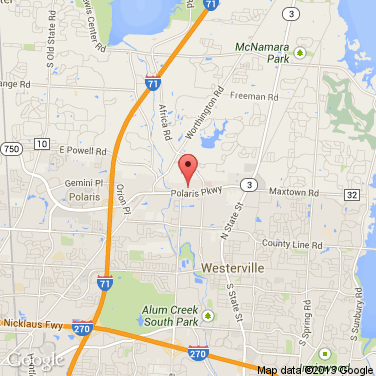 Our Columbus, OH LASIK eye surgery center serves the following surrounding cities: Dublin, Gahanna, New Albany, Powell, Westerville, Worthington.
Google Reviews
★★★★★
Vision went from about 20/400 to 20/15! Staff was friendly and helpful throughout the entire experience. Definitely recommend!
Benjamin S.
★★★★★
The staff here at LVI in Westerville are just fantastic! Everyone here (Dr. Beyer, Dr. Moose, Colin, Nadesha, Chris, Lauren and most importantly... Jodi) are just absolutely awesome. They were able to answer all of my questions/concerns and go into e… Read More +xact detail about the entire procedure and what to expect. It definitely put all my fears at ease. I had a very smooth recovery after surgery and just happened to have my follow up appointment this morning with Colin & Dr. Moose. Everything checked out OK! I would like to thank everyone at LVI for that extra care during and after the procedure. I highly recommend the Westerville location if you are seeking the best care from a very professional and caring staff. Thank you!
Gary B.
★★★★★
Couldn't ask for a better experience. The staff and everyone were great, extremely helpful and answered all questions. Made the experience as comfortable as possible. Great decision!
David M.
★★★★★
Quick and painless! I now have 20/10 vision!
brandon y.
LASIK Doctors Servicing This Location:
More LASIK Eye Surgery Centers Nearby: