Columbus Surgery Center
The LASIK Vision Institute
440 Polaris Parkway, Suite 325
Westerville, OH 43082
For Appointments Call:
1-614-681-7200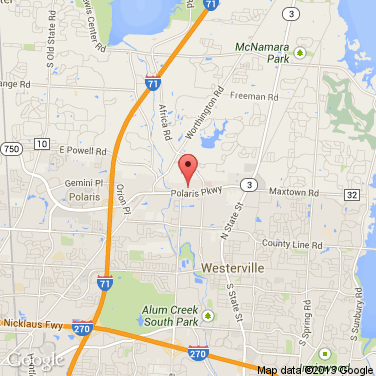 Our Columbus, OH LASIK eye surgery center serves the following surrounding cities: Dublin, Gahanna, New Albany, Powell, Westerville, Worthington.
Google Reviews
★★★★★
I was very nervous when I went in the day of Lasik. The entire staff made me feel so at ease! They all called me by my name and asked how I was feeling. The procedure itself was a breeze. I was in the room for less than 10 mins and the laser on my ri… Read More +ght eye was 10 seconds and the left eye only 6! I highly recommend to anyone considering Lasik to check here first. Just had my 1 month follow up and again the staff knew my name as soon as I walked in the door. First class staff and facility
Ryan W.
★★★★★
I have nothing but great things to say about LVI! Their staff is amazing and answered all my questions. They never made me feel rushed. I am one day post op and already seeing 20/15 with both eyes! The surgeon was amazing, he explained everything to … Read More +me while he was doing it. He also knew I was nervous so he talked with me during most of it knowing it helped ease my nerves. It was a super quick and painless procedure! I highly recommend taking a nap after the procedure but after I woke up I felt great. If you have been considering getting lasik I say go for it! It's the best decision I have made. Thanks LVI!
Brittany B.
★★★★★
Always had to wear a contact on my right eye. I had lasik surgery on it and now I see 20/10 with both eyes! Surgery was quick and painless. Very highly recommend if you are a candidate.
Brandon B.
★★★★★
Like everyone says, I should have done it sooner!! First impression wasn't great because I felt like they didn't offer enough info upfront. However, any question I had they answered. Surgery day was simple and to the point. Dr. R did a great job, I … Read More +went from 20/40 to 20/10. Colin, Dr. Moose and the staff have been exceptional.
alisons687 B.
LASIK Doctors Servicing This Location:
More LASIK Eye Surgery Centers Nearby: