Brooklyn Surgery Center
The LASIK Vision Institute
16 Court Street, Suite 801
Brooklyn, NY 11241
For Appointments Call:
718-765-6992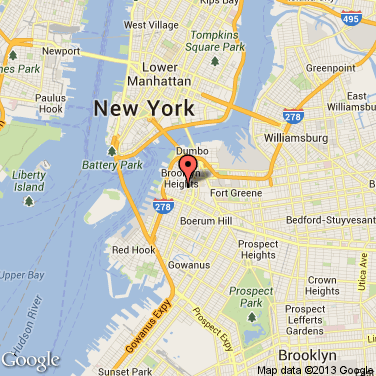 Our Brooklyn, NY LASIK eye surgery center serves the following surrounding cities: Queens, Jamaica, Flushing, Elmhurst, Long Island City, Bronx, Staten Island, Manhattan, Harlem.
Google Reviews
★★★★★
Great service! Everyone there was super nice and very professional the lazik surgeon was amazing and made me feel very confortable. I was really scared about the whole thing but i had a excellent experience! Price was good too I highly recommend for … Read More +all who wear glasses or contacts
dolly j.
★★★★★
I had a wonderful experience from the front desk to the surgeon. I was recommended by my family members and I will say it was the best recommendation ever. You also get a discount for being recommended. All of the staff are professional and very p… Read More +ersonable. Soon as you enter the facility you're either greeted by Olivia, Lily or Evan and they make you feel welcome and relaxed. My pre-op Doctor was Dr. Vyas, he answered my questions and took the time to explained all of the pre-op test. Lily is a sweetheart, she mainly helped me with the process and the financial aspect of the surgery and was encouraging, she's very upbeat. Andrea who's part of the surgery team is a gem, she's kind and always offered me kinds words when I was worried. She was very positive and encouraging during pre-op and post-op. Dr. Fox has to be one of the nicest doctors out there. He listened to my concerns and didn't dismiss them. He talked me through my surgery, told me what a great job I was doing while he was doing the surgery, the steps he was taking and so forth. My post-op appointment was done by Dr. Ancona the next day and he made me feel proud of my eyes. All in all this was an amazing experience for someone that had high anxiet
Yulanda G.
★★★★★
Dr. Fox did my surgery on Wednesday at the Brooklyn Location. I have to say that it was an amazing experience. I was very anxious and everyone including Lily, Andrea, Racheal, Dr. Fox took the time to make feel calm through the whole process. The sta… Read More +ff are very professional and welcoming. I definitely recommend it. The procedure was short and I am already seeing great result!
Nusrat Yasmin U.
★★★★★
I recently had the Lasik procedure at Lasik Vision Institute in Brooklyn and had an amazing experience! I had a pretty significant prescription (about -5.0) and was constantly frustrated and inconvenienced by my contacts for about ten years. I now h… Read More +ave perfect vision totally unburdened by contacts or glasses and it is life-changing! Every aspect of my experience at Lasik Vision Institute was excellent. The vibe is warm and welcoming - everyone who works there, from the receptionists, to the technicians, to the doctors, is knowledgable, experienced, and clearly makes an effort to make you feel comfortable with what can be a scary procedure. The surgery itself was shockingly easy - it only took about fifteen minutes and I experienced very little discomfort. I went home and after napping for two hours, could see perfectly and had no negative side effects. I was shocked at how quickly I was able to resume normal activities! It has been three days since my surgery, so I am still in the healing process, which involves medicated eye drops, no eye makeup, and protecting my eyes in the sun or in the shower, but none of these things have been difficult, uncomfortable, or inconvenient. If you are considering Lasik, but you are
Nina H.
LASIK Doctors Servicing This Location:
More LASIK Eye Surgery Centers Nearby: