Virginia Beach Surgery Center
The LASIK Vision Institute
2901 S Lynnhaven Road, Suite 170
Virginia Beach, VA 23452
For Appointments Call:
1-800-983-9741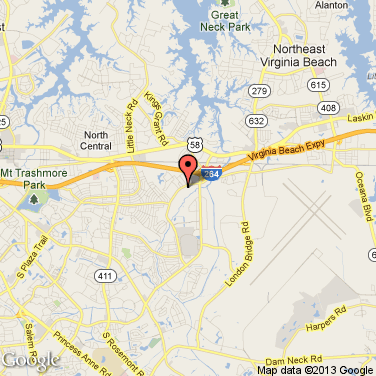 Our Virginia Beach, VA LASIK eye surgery center serves the following surrounding cities: Norfolk, Portsmouth, Chesapeake, & Hampton.
Google Reviews
★★★★★
Great experience. I have had 5 consults work different places and this was the only place that I did not feel pressured to decide. They walked me through questions I never knew to ask. On the day of surgery they talk you through each step as it's hap… Read More +pening. Absolutely love it!!
Cory C.
★★★★★
Honestly, I hadn't even really considered getting LASIK until a friend of mine shared his experience and I decided to get a consultation. Fast forward one month later, I got the surgery and now have 20/15 vision and I love it! From the consultation… Read More + to the procedure, to post procedure care, the LASIK Vision Institute is top notch. I want to give a special shout out to the super friendly staff that makes you feel like a part of the family. Thank you for everything!
Robin S.
★★★★★
From my first contact with LVI, they were incredibly professional, kind and caring. Belinda who does the payment, and scheduling is phenomenal.the day of my surgery I was so nervous, the staff was so calm and patient with me. After my surgery I had w… Read More +hat seemed to be abnormal pain, I asked to come in. It was after hours, without hesitation the dr on call met me at the office and examined my eyes and determined they were ok- and it was just my level of healing after PRK- which is typical. I highly recommend this practice.
Bekah K.
★★★★★
I had a great experience at Lasik Vision Institute in Virginia Beach..I chose PRK surgery and was very impressed with the whole staff, pricing, patient care and follow up and of course the results! I was initially afraid of the procedure and feeling … Read More +pain. My doctor talked me through every step and was extremely compassionate. I didn't feel a thing and it went by much faster than I expected. If you're thinking about Lasik or PRK surgery, I would start by coming here for a consultation.
Julie S.
LASIK Doctors Servicing This Location:
More LASIK Eye Surgery Centers Nearby:
Vienna Office
8614 Westwood Center Drive, Suite 650
Vienna, VA 22182