Vienna Surgery Center
The LASIK Vision Institute
8614 Westwood Center Drive, Suite 650
Vienna, VA 22182
For Appointments Call:
703-775-7992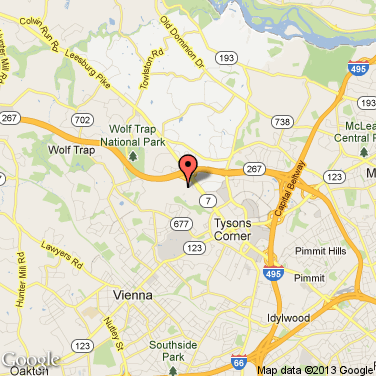 Our Vienna, VA LASIK eye surgery center serves the following surrounding cities: Oakton, Tysons Corner, Falls Church, Annandale, McLean, Reston.
Google Reviews
★★★★★
I had 3 Lasik consultations at different places in Northern Virginia, and the Lasik Vision Institute made me feel so comfortable, I decided to get the procedure the very next day after my consultation. Matt, Dr. Amir, and Terry were wonderful, friend… Read More +ly, and helped to calm my nerves before the procedure. My friend got PRK there the year before and they remembered her and details about her as well. They were so accommodating and after my consultation, said they could bring me in at 9 AM the next morning and get it done because I was leaving for a trip the following week. They even gave my boyfriend coupons for the prescription eyedrops and directions to the nearest pharmacy so he could fill the prescriptions while I had the procedure done. The 8 AM check-in appointment the day after the procedure also made me feel super comfortable knowing that I would be going back in to get checked up less than 24 hours after the procedure. I would highly recommend the McLean location in particular to anyone considering Lasik in the DC / Nova area.
Kelly Q.
★★★★★
From my first evaluation I felt welcomed. The staff was amazing. The facility is clean. They informed me so well from my schedule, to my charts, procedure, everything. They made me feel comfortable during the procedure. I felt genuine care here and t… Read More +hanks to lasik institute i don't need my glasses or contacts anymore.
Lorena V.
★★★★★
FREE AT LAST! NO MORE GLASSES! Dubbed "Mr. Astigmatism" by the Doctors, I can see things I have not seen in 40 years! Thanks to Dr. Amir, Dr. Brusco, Terry and everyone at LVI! Best investment in my health ever!! 15 minutes that can really, trul… Read More +y, change your life!!! I CAN SEE!!!!
Romulo G.
★★★★★
Great experience, great results, the staff was friendly and professional. I wish I would've done this years ago.
Mauricio C.
LASIK Doctors Servicing This Location:
More LASIK Eye Surgery Centers Nearby: