Phoenix Surgery Center
The LASIK Vision Institute
2929 East Camelback Road, Suite 110
Phoenix, AZ 85016
For Appointments Call:
602-599-0132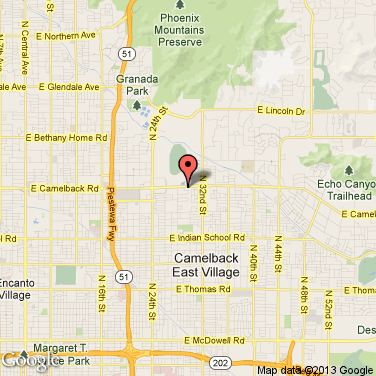 Our Phoenix, AZ LASIK eye surgery center serves the following surrounding cities: Chandler, Gilbert, Glendale, Mesa, Paradise Valley, Peoria, Scottsdale, Sun City, Surprise, Tempe.
Google Reviews
★★★★★
Best experience ever. They walk you through everything. I left my house 8:00am and was home before 11:00am. Just two days after surgery and I feel great about my vision. I will be telling everyone I know about the level of care and service I received… Read More +. Thank you to all the staff.
Lonnie H.
★★★★★
Very friendly, great staff, and most of all very efficient.
Trevon G.
★★★★★
If you think about it, LASIK is a pretty terrifying procedure. You're trusting someone to go in, slice your corneas open, shoot a laser directly into your eyeballs, and hope you don't go blind at the end of it. Well, I'm glad I trusted The LASIK Vi… Read More +sion Institute, because not only am I NOT blind after my procedure, I have 20/20 vision! They made the entire process extremely pleasant, and not once did I feel uncomfortable or apprehensive. The staff there are extremely hospitable and easy to talk to, and the doctors are honest and upfront about everything - they were able to save me a lot of money by being truthful about what add-ons I wasn't likely to need due to my circumstances. A little backstory on why I got the procedure, despite my prescription being fairly low: I was a competitive figure skater for over half my life, and having poor vision really affected by ability to skate. On top of that, I've always been unable to wear contacts because my allergies made them unbearable to keep in my eyes for more than 5 minutes (and yes - I tried ALL the latest air optic, breathable, daily, whatever technology). When I would skate, my glasses would fog up or fly off my face, so I'd just have to take them off and hope for the best. It
Madelyn N.
★★★★★
Super friendly and professional staff. Came in for the free consultation which was very in depth and informative. Then they answered any questions I had and scheduled me for my procedure very quickly. I have my follow up check up scheduled and I am l… Read More +ooking forward to it.
Joy N.
LASIK Doctors Servicing This Location:
More LASIK Eye Surgery Centers Nearby: