Lancaster Surgery Center
The LASIK Vision Institute
2168 Embassy Drive, Ste 100
Lancaster, PA 17603
For Appointments Call:
1-717-335-9020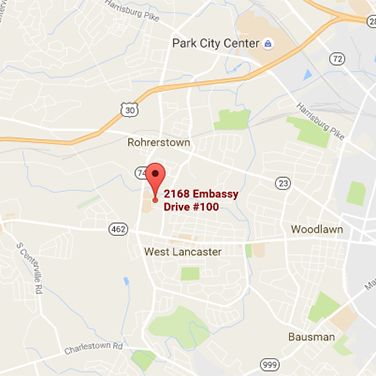 Our Lancaster, PA LASIK eye surgery center serves the following surrounding cities: Harrisburg, Lebanon, Hershey, York, & Elizabethtown
Google Reviews
★★★★★
I went in expecting the whole process to take a couple months. I was in for my consultation and out of the surgery within a week. It was cost effective and very efficient.
actbuckwalter
★★★★★
The friendliest people, they educate you and show great passion for their work and care of their patients. It's been a few months since my surgery I'm seeing better than perfect, 20/15 ... Really impressed and happy with my new eyes. Had the PRK sur… Read More +gery, it was uncomfortable for a few days (mildly painful for the first) - but the results are absolutely worth it.
Brendon L.
★★★★★
They have your best interests in mind. I have really thin corneas and they suggested doing the PRK surgery instead of the normal Lasik procedure. They explain things about the eye more than any eye doctor has ever shown me. Overall, I am very happy I… Read More + got the surgery and don't need glasses anymore.
Kilee A.
★★★★★
i love this people, they were really nice, very details with the process and always whiling to give me an answer with all my questions. The process was very easy, my recovery time was good and easy. by the way i wasn't able to do laser so i did PRK … Read More +but its turn awesome. No regret!! No tengas miedo y haste tu consulta, no tienes nada que perder, ni siquiera tu dinero!!
vanessa n.
LASIK Doctors Servicing This Location:
More LASIK Eye Surgery Centers Nearby: