Lancaster Surgery Center
The LASIK Vision Institute
2168 Embassy Drive, Ste 100
Lancaster, PA 17603
For Appointments Call:
1-717-335-9020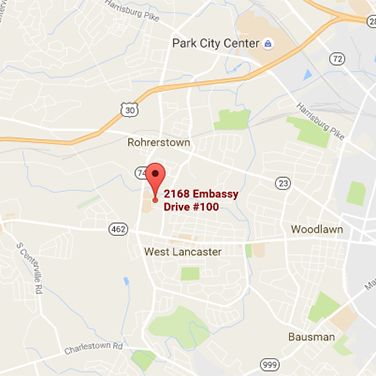 Our Lancaster, PA LASIK eye surgery center serves the following surrounding cities: Harrisburg, Lebanon, Hershey, York, & Elizabethtown
Google Reviews
★★★★★
The staff was incredibly kind and helpful. I was able to move through this process quickly; it was easy to find times that worked with my schedule. The actual procedure also went fairly quickly and by the next morning I was seeing 20/15, after 25 yea… Read More +rs of contacts and glasses. A gift to be able to see!
Brittany S.
★★★★★
Very happy that I got the procedure and very happy that I chose LASIK vision institute of Lancaster. The staff is very thorough, precise, pleasant and accommodating to any and all questions. I highly recommend LASIK institute of Lancaster. Cheers.
John S.
★★★★★
Had a hard time deciding between 4 and 5 stars. The good: -I had a prescription of -2.50 eyes. Now I have 20/15 vision after surgery. Very happy about the results. -Staff is very polite, professional and ready to answer any questions. -You're in the… Read More + surgery room for all of 15 minutes for the actual procedure. The time spent using a laser on your eye is seconds. -Dr. Rozakis seems very well qualified -If you ever need surgery again, you don't pay for surgery again, as long as you follow their annual check-ups. Failing to do that disqualifies you. The bad: -Looong waits. I sat for at least an hour before being seen for my pre-op. Post-op visit was much quicker so it seems to vary. -The price is nothing what they advertise. I knew it wouldn't be a few hundred dollars per eye as advertised but it was still more than I was expecting. However, price is discussed and clearly stated at first consultation so there's no surprises. -While the surgery is painless, that evening was rather uncomfortable with significant soreness. They suggest trying to nap through it. The discomfort is almost gone by the following day however. I'm sure it varies for each person.
Kevin B.
★★★★★
AMAZING Experience! From my first phone call with Monica to my follow-up appointment with Dr. Tyler, I couldn't be happier with my decision to have Lasik done at the Lancaster Lasik Vision Institute. The entire staff is knowledgeable, caring and pr… Read More +ofessional. They went above and beyond to accommodate my schedule being that I flew in from the FWI to have the procedure done and answered all of my questions. I highly recommend this office to anyone considering the procedure. In less than 15 minutes I am now contact lens free and can see 20/15. WOW! Thank you.
Catherine P.
LASIK Doctors Servicing This Location:
More LASIK Eye Surgery Centers Nearby: