Des Moines Surgery Center
The LASIK Vision Institute
1225 Jordan Creek Pkwy Ste 104
West Des Moines, IA 50266
For Appointments Call:
1-515-380-7420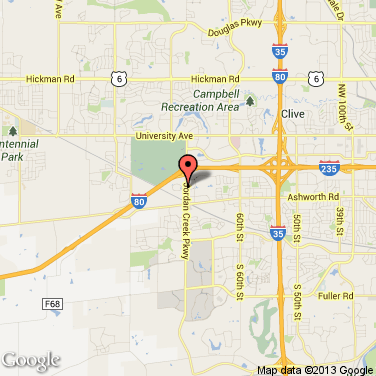 Our Des Moines, IA LASIK eye surgery center serves the following surrounding cities: West Des Moines, Urbandale, Ankeny, Altoona, Newton, Iowa City, Cedar Rapids, Mason City, Ames, Norwalk, Indianola.
Google Reviews
★★★★★
The office staff is very friendly and the Doctor is calming and thoroughly explains every part of the process. The surgical team is entertaining and really puts you at easy during the procedure. Each appointment is efficient and the caring staff make… Read More +s the experience great! I highly recommend it and wish I had done it years ago!
Molly
★★★★★
The staff were AMAZING!!! They answer all your questions. They make you feel so comfortable and at ease with the procedure.
Rahni B.
★★★★★
Could not have had a better experience. So grateful to have my vision ❤️
Arely V.
★★★★★
Awesome customer service! The staff are very understanding of any nervousness and explain things very well - they are very good about answering any questions and keeping up with correspondence. The actual surgery went very well - and very fast - i… Read More +t was scary but amazing and I would do it again. It's been a little under a month and both eyes are already at 20/20 and the eye doctor said they should continue to sharpen over the next few months which means I'll most likely end up with better than 20/20 vision in both! I am so glad I took the leap! I definitely recommend The LASIK Vision Institute! If you're looking to get LASIK - go to Des Moines.
Miss R.