Charlotte Surgery Center
The LASIK Vision Institute
330 Billingsley Road Suite 205
Charlotte, NC 28211
For Appointments Call:
704-327-7992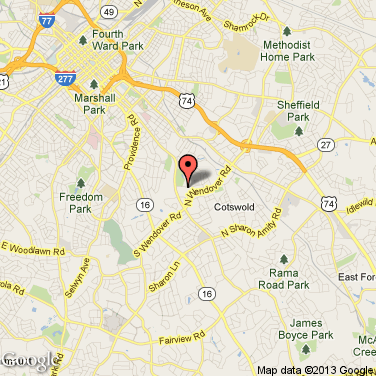 Our Charlotte, NC LASIK eye surgery center serves the following surrounding cities: Huntersville, Matthews, Pineville, Harrisburg, Concord, Mt Holly, Belmont, Rock Hill, Hickory, Concord, & Gastonia.
Google Reviews
★★★★★
I want to start off by saying I am forever grateful for everyone at LVI-Charlotte! From the staff to the doctor and to the surgeon, everyone was so knowledgeable and made any hesitant feelings go away. I have worn glasses since I was in the 3rd grade… Read More + [19 yrs ago]. I have always dreamt of the day when I would be able to wake up and see perfectly clear without my glasses. Thankfully my dream has come true. Because my eyesight and astigmatism were so terrible, the doctor informed me that I might not be able to achieve the perfect vision...but guess what?! One, just ONE day after surgery at my post op exam I was seeing 20/20 slightly fuzzy..but it only gets better! If you've longed for this day as well, please don't wait any longer. This was the most life changing thing I've ever done and I have zero regrets. With that being said, THANK YOU so much LVI of Charlotte for everything!!! Yall are the best!!!! 🙌😍
Vienna H.
★★★★★
Had an amazing experience at the Lasik vision institute. The staff were friendly and the Doctors were very personable and welcoming to any questions before my procedure. Highly recommend!
Lorenzo H.
★★★★★
It doesn't hurt!!! Everybody was extremely nice and very kind. I can finally see!
Kathryn H.
★★★★★
Muy buen trabajo
Gregorio R.
LASIK Doctors Servicing This Location:
More LASIK Eye Surgery Centers Nearby: