Atlanta Surgery Center
The LASIK Vision Institute
3200 Cobb Galleria Parkway Ste 105
Atlanta, GA 30339
For Appointments Call:
770-336-8314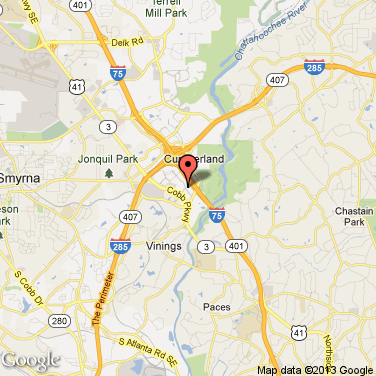 Our Atlanta, GA LASIK eye surgery center serves the following surrounding cities: Buckhead, Dunwoody, Fair Oaks, Kennesaw, Marietta, Roswell, Sandy Springs & Smyrna.
Google Reviews
★★★★★
My PRK surgery was on July 12th @ the Cumberland location in GA., and it was a very smooth procedure that was completely painless. The staff at the office are terrific and that are always smiling. Dr. Carr has a personality that will put all of you… Read More +r worries to ease. He walks you through the entire procedure and tell you everything that he is getting ready to do. My vision was kind of tricky with one eye that had trouble seeing far away and the other one I was having trouble reading. I was nervous at first but I was ready to be free of contacts and glasses that I have used for over 40 years . "My Tech" David sets the tone and the pace of whats going to happen and how i should be able to see clearer at the end of the procedure. We also had a wonderful conversation throughout the entire process. It may have taken about 15 minutes for both eyes. I was surprised how well I could see immediately following the PRK procedure. I wish I had done it years ago!!!
STACEYDTRAYLOR
★★★★★
Omg this place is AMAZING, David took his time with me, told me every little thing that was going on before he did anything at all. Told me to tell him if I could see better with each lens or if it was the same, he did NOT RUSH me at all. Very very … Read More +Professional the whole time, I have always been rushed in my eye exam, but not here no way at all. When I was finish with him, Dr.Hanh came in, he done the eye exam also, he was very Professional also, took his time as well. Told me what all will take place when I have my surgery done. This place is awesome, then you have the center manager Cinthia Schram wow, she is truly a blessing from above. She was with me just About the time I was there. She is Absolutely a outstanding person. She also went over and beyond for me today, I am so glad I went to them, I will continue to see them for my yearly exam after my surgery on 6/12/19. Never ever going anywhere else, please call for your appointment thanks Tammy Nelson.
Tammy N.
★★★★★
I came in not thinking I could afford it sceptical that the procedure wasn't for me and scared that if it was it would be dangerous. I left with more knowledge about eyes how they work, what kind of shape mine are in, all the different reasons why th… Read More +is procedure is definitely perfect for me (not once did I feel like I was being forced to do it), why they were the perfect choice to do it, and the many options to pay. And AND! They were so understanding when scheduling was difficult for me and willing to work with my difficult schedule when I had to change it because of inventory at work. I highly highly recommend them
Kathleen L.
★★★★★
I'm so happy, this change my life forever, the staff is SO FRIENDLY, I felt like in home. They explain me everything so clearly, the nurse is amazing, his name is David. Everything is super clean and nice. The doctor talk to me all the time , marking… Read More + me very comfortable and peaceful, the surgery was very quickly and NOT PAIN AT ALL, I will bring my friends here. Best place ever. Love it. Thanks ☺️, now I'm a new man.
Devraj S.
LASIK Doctors Servicing This Location:
More LASIK Eye Surgery Centers Nearby:
Duluth Office
3235 Satellite Blvd. Building 400, Suite 170
Duluth, GA 30096