Atlanta Surgery Center
The LASIK Vision Institute
3200 Cobb Galleria Parkway Ste 105
Atlanta, GA 30339
For Appointments Call:
770-336-8314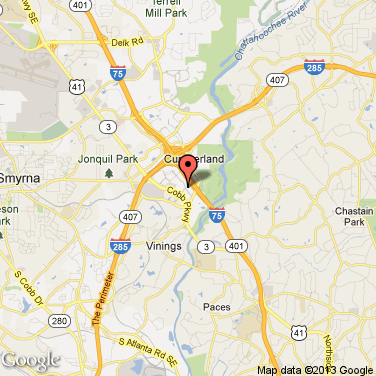 Our Atlanta, GA LASIK eye surgery center serves the following surrounding cities: Buckhead, Dunwoody, Fair Oaks, Kennesaw, Marietta, Roswell, Sandy Springs & Smyrna.
Google Reviews
★★★★★
This was my first visit and everyone was so nice and courteous. I really enjoyed every one that took care of me. The office was very nice and clean, even the bathroom was clean.
Audrey K.
★★★★★
My initial consultation was amazing. I am scheduled to have my procedure next week. I'll see you all then...get it? No? Ok lol!
Alton Y.
★★★★★
I've had very poor eye sight my entire life. I looked into Lasik years ago and was told they could not correct my vision. I decided that there had been enough advances that perhaps I was now a candidate. I went to the Lasik Vision Institute and wa… Read More +s pleased with how bright and clean the office was and how friendly and professional the folks at the front desk were. I then spent time with 2 different folks (Cynthia and Liz) who each did different tests and procedures. Both were extremely friendly and professional and they explained what they were doing, why they were doing it and what I could expect. Finally I met with the doctor. He was great. Very professional and VERY HONEST. He explained to me that they could successfully do the Lasik on my eyes, but that I would still always need readers. And then he showed me what my vision would be like after the surgery for both near and far, using the instrument in the office. This allowed me to make the painful decision that Lasik would not really give me what I was hoping for. But now I know!!! I can't begin to convey how much I recommend this office if you are considering this procedure. The honesty and professionalism, of everyone I had contact with, is not something you
Lynn B.
★★★★★
Amazing staff and services. I was very skeptical about getting LASIK and the cost but the staff walked me through the entire process and I was extremely comfortable before, during and after my surgery. I would recommend this place to everyone interes… Read More +ted in getting LASIK.
Erick J.
LASIK Doctors Servicing This Location:
More LASIK Eye Surgery Centers Nearby:
Duluth Office
3235 Satellite Blvd. Building 400, Suite 170
Duluth, GA 30096