Albany Surgery Center
The LASIK Vision Institute
8 Southwoods Blvd, Ste 8
Albany, NY 12211
For Appointments Call:
1-518-291-4701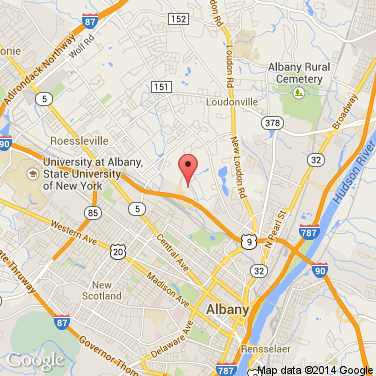 Our Albany, NY LASIK eye surgery center serves the following surrounding cities: Troy, Schenectady, Saratoga Springs, Kingston, & Syracuse
Google Reviews
★★★★★
My experience with LASIK Vision Institute could not have been more positive. The staff is friendly and knowledgeable, explaining every step of the procedure. They offered easy financing - which was key! I was able to have my surgery done the day afte… Read More +r my consultation visit. And, most remarkably, I could see so much better from the moment I came out of surgery. Recovery has been quick and pain free. I highly recommend LVI. I wish I had known about them years ago!
Trisha D.
★★★★★
Going to Lasik Vision Institute in Albany for my LASIK surgery was the best decision I made. I saw an offer on Groupon which led me to call the number for a consultation. Nothing to do with the other places that offer vision correction. I had not pu… Read More +rchased the Groupon at this point, and consequently didnt. I added my prices at the end. Not for any other reason then the office manager Lauren gave me a better price when I included lifetime insurance and scheduled that day. (Did the math with my credit card promotions and cash back apps.) I was approved for credit line with Care Credit, and 18 month deferred interest promotion. Lauren is super personable, down to earth, sweet, so easy to talk to. She goes over financial options and ANY questions you may have. After a series of eye tests, with the optometrist, computers scan your eyes to determine if LASIK or PRK is your best option. (You don't get to decide that.) And scheduling your surgery appointment. For me, this process went really fast. I had a consultation on Thursday and surgery Saturday. It may NOT be this way for you. I think mine was purely timing. The office even helped me with an UBER to and from my surgery. appointment, I was there 4 hours, waiting..signed some stu
Jennifer S.
★★★★★
Dr. Stoparic and staff are amazing! The entire staff goes out of their way to make customers feel comfortable. Initially, I was afraid to get the procedure done; from the beginning staff made certain that I understood the process and answered thoroug… Read More +hly any questions I had about LASIK. Overall, I am pleased with my results thus far. I highly recommend this place! Thanks to everyone!!!
Liz C.
★★★★★
Very affordable LASIK using a Groupon. Spent just under 3 hours onsite the day of the surgery. Professional staff and willing to answer any questions. 20/15 vision the day after surgery!
Christian W.
LASIK Doctors Servicing This Location:
More LASIK Eye Surgery Centers Nearby:
Boston Office
50 Burlington Mall Rd, Suite 101
Burlington, MA 01803