Tempe Surgeon Center
The LASIK Vision Institute
960 W. Elliot Rd., Suite 106
Tempe, AZ 85284
For Appointments Call:
1-800-983-9741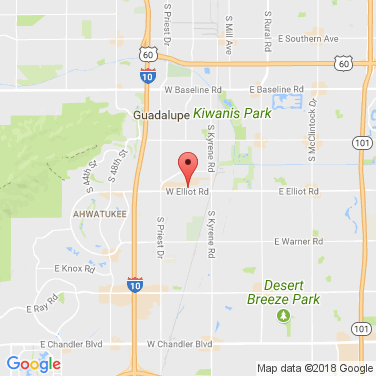 Our Tempe, AZ LASIK eye surgery center serves the following surrounding cities: Mesa, Chandler, Scottsdale, Laveen
Google Reviews
★★★★★
Every single person at the Tempe LVI was incredibly warm and inviting. Kim helped me understand how everything would happen from pre-surgery on, and like myself, has undergone a PRK. Dr. Clark did my surgery in maybe 15 minutes! We talked the whole t… Read More +ime! It is astounding what a difference this surgery has done for me. I am anticipating clearer results once my corneas are fully healed, but already able to drive four days after the surgery is nuts! Lots of follow-up on their part, and welcomed my million questions with clear answers. I recommend this surgery with this team to anyone! Thanks LVI team!
Noreena M.
★★★★★
Lasik Vision Institute(LVI)-Tempe has been phenomenal! I had PRK March 31, 2019 and it has truly been a life changing experience for me. The first few days my eyes were slightly uncomfortable. I pretty much stayed indoors....slept/rested and kept eye… Read More +s closed for the first few days. I wore my sunglasses EVERYWHERE....even indoors and I took medication exactly as directed. As of today I can see 20/20 .... my old 20/400 eyes are a thing of the past now : )!!! I also had a VERY high degree of astigmatism which is no longer an issue! : ) I can't believe I no longer need glasses! The entire experience at Lasik Vision Institute from the consultation, surgery, and follow has been much more than excellent and leaves me in awe! I am so very thankful to LVI. My eyes fill with happy tears as I write this. A very special THANK YOU to Dr Kao! Thank you Kim! Thank you Dr. Karoona! Thank you Korey! Also, Thank you to LVI Phoenix staff for stepping in and taking care of my eyes also!
Taisha B.
★★★★★
This was probably the best decision of my life. The staff at the LASIK Vision Institute made me feel at ease. They explained every part of the surgery and answered all of my questions. Every staff member was approachable, welcoming, and helpful. I wo… Read More +uld 100% choose LVI again.
Cat S.
★★★★★
The staff at the Tempe location all of them were some of the best that I had the pleasure of talking to and the best staff I have ever met. They made me feel at ease with the exams and the surgery. Would 100% recommend them to everyone thinking about… Read More + lasik.
G F.
LASIK Doctors Servicing This Location:
More LASIK Eye Surgery Centers Nearby: