Tempe Surgeon Center
The LASIK Vision Institute
960 W. Elliot Rd., Suite 106
Tempe, AZ 85284
For Appointments Call:
1-800-983-9741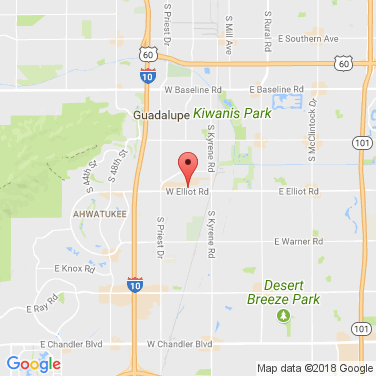 Our Tempe, AZ LASIK eye surgery center serves the following surrounding cities: Mesa, Chandler, Scottsdale, Laveen
Google Reviews
★★★★★
I love this place! They are all really nice and helpful. I had to bring my daughter with me for both of my appointments and they were so nice to her she loves going there too. I never wait more than 5 minutes to be called back and there are a lot of … Read More +tests that need to be done but they are so we'll coordinated that it goes so smooth.
Annette M.
★★★★★
From the moment that I walked into the LASIK Vision Institute (LVI) for my consultation, there was no doubt in my mind that I had found the perfect place to have my vision correction surgery. This was my second Lasik surgery consultation in as many … Read More +weeks and the difference between the two companies was like night and day. I am not saying that there was anything wrong with where I went for my first consultation. Its just that the atmosphere from beginning to end was very perfunctory and aloof. Don't get me wrong, the staff was very pleasant and no one was rude. I just didn't get that 'warm, fuzzy' feeling that lets me know I'm making the right choice. However, when I walked through the doors of LVI, I felt like I was walking into the house of a family member. There was a lobby that was set up more like a living room, including a TV playing Friends reruns. My husband and I were offered our choice of drinks, which is pretty standard except for the hot chocolate which was a surprise. There was even a container of mini chocolate candy bars available. As we waited in a similar type of back area during a break from the series of required tests that are apparently fairly standard amongst vision correction surgery companies, we were tre
Dena P.
★★★★★
Everyone is real nice. Comforable place to be. Keep it that way. Leave your kids at home.
TIM S.
★★★★★
The team in Tempe is the best! They were friendly, patient and answered all my questions in detail. Thank you for making it a pleasant experience.
Jose Q.
LASIK Doctors Servicing This Location:
More LASIK Eye Surgery Centers Nearby: