San Antonio Surgery Center
The LASIK Vision Institute
40 NE I-410-LOOP, Suite 600
San Antonio, TX 78216
For Appointments Call:
210-775-1438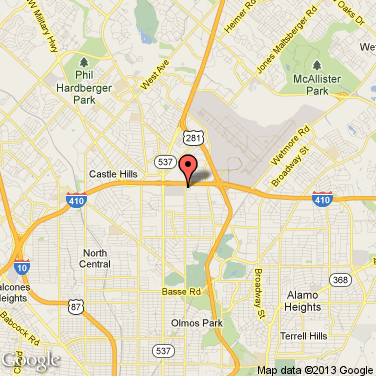 Our San Antonio, TX LASIK eye surgery center serves the following surrounding cities: Edgewood, Alamo Heights, Central San Antonio, Kirby, & Judson.
Google Reviews
★★★★★
I would like to Jennifer for her awesome professionalism and knowledgeable advice during the whole process. From the very beginning she was always very helpful. Like most people , we set off these kind of procedures because of financial circumstance… Read More +s, to uncertainty or doubts, or busy work schedules. All of that was completely taken care of by her and all the staff. It all worked out perfectly. Thank you to everyone for their great customer service Definitely recommend them!!
Maria T.
★★★★★
Been wearing glasses since 10 years old. I'm almost 30 now. I wanted a life-changing eye treatment this year. I stumbled upon a Lasik Vision Institute stand during 4th of July at Woodlawn Lake. Made and appointment with the reps back there and the… Read More +n. Fast forward to yesterday, August 29th: Got my Lasik correction with no issues, and what a terrific experience!!! The front desk staff, Ms Jennifer (the office manager) and the billing rep were always friendly, polite and nice; Dr Vu and Dr Miller, the ophthalmologists, are down to earth, authentic, and professional above all, and the laser treatment staff during my laser correction, reassuring and helpful making me stay calm and comfortable. In all, my experience here has been top notch, and I recommend everyone to take the time and step in here before you decide to go to any other place. Thanks LVI team!
kevinarguellop T.
★★★★★
It was a very quick, informative and friendly process. From consultation to surgery was about a week. They answered any and all questions. They eve made themselves available a little earlier for us due to our schedule. I would definitely recommend th… Read More +em!! Thank you!!
Madam K.
★★★★★
Going into 2020 I was hoping to see 20/20. But now the great people at The Lasik Vision Institute Helped me see even better. Going into 2020 I'll be seeing 20/15. Thanks LVI 😉👍🏼
Hiram F.
More LASIK Eye Surgery Centers Nearby: