Salt Lake City Surgery Center
The LASIK Vision Institute
7440 South Creek Road, Suite 150
Sandy, UT 84047
For Appointments Call:
801-270-2087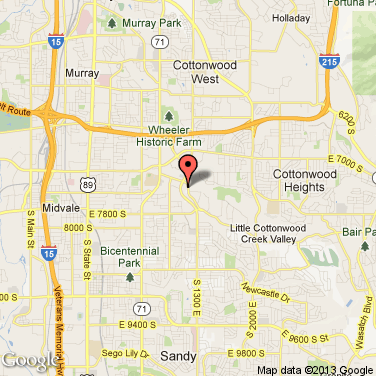 Our Salt Lake City, UT LASIK eye surgery center serves the following surrounding cities: Canyon Rim, Murray, Park City, Sandy, Taylorsville, West Jordan & West Valley City
Google Reviews
★★★★★
Lasik Vision Institute is awesome! The providers & staff are so friendly they make the experience well worth it! I had terrible vision with astigmatism & was a -6.00 in contact lenses. I had PRK surgery in March & I now am seeing very clearly (20/15)… Read More + & better than I can ever remember. I highly recommend having them do your lasik or PRK surgery if you are looking to have your eyes done in the Salt Lake City area! They treat their patients as if they have known them for years which makes the process more enjoyable! They have great providers & an awesome staff which is very helpful along the way!!
Jeffrey G.
★★★★★
I had a really great experience with LVI. The staff was very professional, yet personable. I opted to do PRK, and have had a really good recovery so far (it's been a week). The first couple of days I experienced some discomfort, but I made sure I res… Read More +ted a lot, and I feel like that really helped minimize the pain and discomfort. I really appreciate how kind and willing to answer questions the team was. It was clear that my well-being was their main concern.
Tyson P.
★★★★★
Receiving my laser correction surgery from The Lasik Vision Institute in Cottonwood Heights has been a wonderful experience! The staff is kind and welcoming, and they are always so willing to help me with any questions or concerns. I had my Lasik c… Read More +onsult on a Friday and was approved to have the procedure done the next day (Saturday)! I chose to have PRK with Contoura because I felt it a better option than the flap surgery (Lasik). The procedure was quick and painless, with the exception of a few hours of pretty good pain that night. My eyes were blurry and extremely sensitive to light for about 4 days, but within a week or two I was already seeing just as well if not better than I did with contacts. Yesterday was my 3 month checkup and I am already seeing 20/15 with more recovery expected! I have been very impressed with the way this facility is run and how great everyone has been through this process!
Duet C.
★★★★★
Great experience!
Brayden H.
LASIK Doctors Servicing This Location: