Richmond Surgery Center
The LASIK Vision Institute
7100 Forest Avenue, Suite 102
Richmond, VA 23226
For Appointments Call:
1-800-983-9741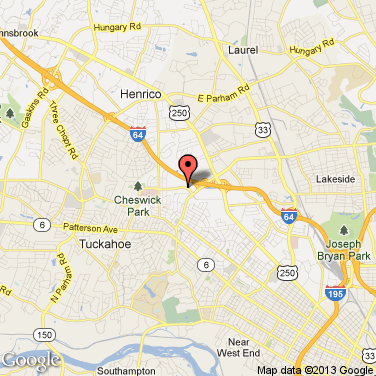 Our Richmond, VA LASIK eye surgery center serves the following surrounding cities: Mechanicsville, Peter Paul, Fulton, Hickory Hill, Chester, Midlothian, & Petersburg.
Google Reviews
★★★★★
This was the best decision I made in my life! I started wearing glasses in 2010 and thought I would have to wear them the rest of my life. I heard of Lasik surgery and saw final destination 😳🤣 but it's nothing like that at all. It was really ju… Read More +st a few seconds for the surgery and the next day my vision was great!!! I have and will recommend this to anyone who is tired of wearing glasses. It's worth it!!!
Keesh H.
★★★★★
Greatest experience of my life! The staff, was nothing short of amazing, down to earth, comforting, and I can keep on going!! Consult, quick 2nd efficient, set up for surgery within two weeks...based on matching my work schedule and available appoint… Read More +ments, answered every question! I couldn't have chosen a better place to go! Emotional experience
Dana C.
★★★★★
The staff here is wonderful! From my first appointment on has been a wonderful experience. I had Lasik with Contoura in March 2019 and the results have been AMAZING! I have been wearing glasses for a very long time and to now have 20/20 vision with… Read More + no issues with glare or night driving has been a dream come true. Highly recommended!
Heather P.
★★★★★
Awesome group of people there, only place I would recommend for anyone considering lasik.
Ryan S.
LASIK Doctors Servicing This Location:
More LASIK Eye Surgery Centers Nearby:
Vienna Office
8614 Westwood Center Drive, Suite 650
Vienna, VA 22182