Richmond Surgery Center
The LASIK Vision Institute
7100 Forest Avenue, Suite 102
Richmond, VA 23226
For Appointments Call:
1-800-983-9741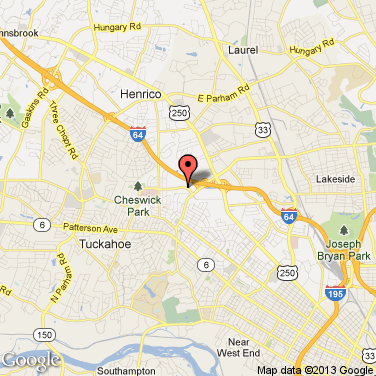 Our Richmond, VA LASIK eye surgery center serves the following surrounding cities: Mechanicsville, Peter Paul, Fulton, Hickory Hill, Chester, Midlothian, & Petersburg.
Google Reviews
★★★★★
After a close friend informed me of his procedure, I asked questions about my poor vision as I have gotten older. He said that Lasik Vision Institute would perform a free consolation. A few weeks later, I called and scheduled an appointment within … Read More +a day or so... at my convenience. This place is the BEST. The staff is very professional and courteous. A year and a half later, my only regret is that I did not do this sooner. I no longer need any type of reader glasses to see menus or information on medicine bottles or information on any kind of label. Also, my wife, son (18), daughter (20), brother and at least four other friends have taken my advice and had Lasik Vision Institute do they procedure to correct their vision. Again, the only downside I have heard from people, is why did I wait so long to get this done.
Bruce W.
★★★★★
I was so glad I chose Lasik Vision Institute to handle my vision correction. The consultation was very thorough and everyone at the Richmond center was very polite and professional. I couldn't have asked for a better experience when it came to trust… Read More +ing someone with my eye sight. I was very very nervous when I first got there. But Tabby, one of the many wonderful people there assured me everything would be just fine, and she was 100% correct! Surgery was quick and pleasant and I felt very comfortable with my choice in vision correction institutes. I would highly recommend the Richmond Virginia center to anyone who asks me about Lasik surgery.
Jason G.
★★★★★
Cassandra was very knowledgeable, friendly and was able to answer all me questions i had. I will be having my surgery in the very near future.
david r.
★★★★★
everyone at lasik vision was AMAZING! especially jennifer and ethan. jennifer is the manager and was patient with answering all my questions, was not pushy like all the other places i visited for consultations, ethan the medical assistant was also gr… Read More +eat and patient! the survey went great! it's been 1 month and my vision is already at 20/20! I would recommend this surgery and place to EVERYONE!
Tiffaniee H.
LASIK Doctors Servicing This Location:
More LASIK Eye Surgery Centers Nearby:
Vienna Office
8614 Westwood Center Drive, Suite 650
Vienna, VA 22182