Provo Surgery Center
The LASIK Vision Institute
898 North 1200 west
Suite 103
Orem, UT 84057
For Appointments Call:
1-801-685-4120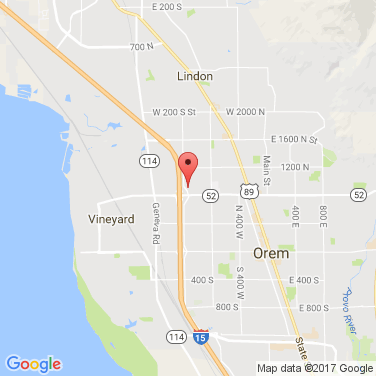 Our Provo, UT LASIK eye surgery center serves the following surrounding cities: Orem, Lehi, Spanish Fork, Springville & Lindon
Google Reviews
★★★★★
After wearing corrective lenses for almost 30 years. I contacted LVI for a Lasik consult. PRK was the only option I qualified for. They answered all of my questions and addressed any concerns I had long before surgery. They gave full disclosure about… Read More + the typical recovery time for PRK, so I was able to schedule off the time needed post-op. I went from seeing 20/400 left, 20/250 right with an astigmatism in both eyes. I returned to work just over a week later seeing 20/40 in both eyes. Over the course of the next 6 months, it was exciting going in for post-op visits to see how much better my vision had improved. I'm proud to say that I am now seeing 20/20 in my left eye and 20/15 in my right. Thank you to all the staff at LVI and your positive vibes throughout this process. I highly recommend this to anyone wanting to see better. It's definitely been life changing.
James S.
★★★★★
Office staff is friendly and readily available to answer any questions you may have. Procedure was quick and painless. Explained every aspect of the procedure as it was happening. Would definitely recommend to anyone looking into Lasik.
Matt N.
★★★★★
My experience with LASIK Vision has been great!..I love that I don't have to wear glasses any more..I went through the surgery about a year ago. The healing process had been a little long for me, but can definitely see a lot better than before..On … Read More +my right eye I have 20/20 vision and on my left eye I have 20/25 vision.Im very happy with the overall results..The people at the LASIK Vision in Orem, Ut are awesome..I recommend this place 100%..
William T.
★★★★★
Wonderful group of people they have here. They're always happy to answer every question, and they are well informed on the processes of LASIK and the recovery as well. Every time I walked in, I was welcomed by name and felt like they each cared about… Read More + me and my well being on a personal level. I'm so glad that I chose to come here instead of anywhere else!!
Bagool T.
LASIK Doctors Servicing This Location:
More LASIK Eye Surgery Centers Nearby: