McAllen Surgery Center
The LASIK Vision Institute
1400 East Expressway 83, Suite 145
McAllen, TX 78503
For Appointments Call:
1-800-983-9741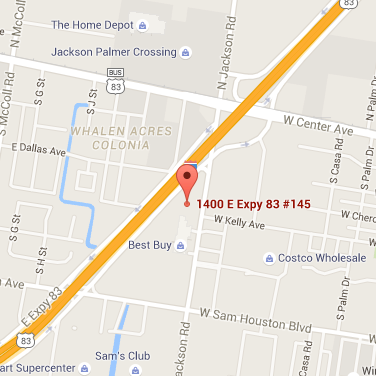 Our McAllen, TX LASIK eye surgery center serves the following surrounding cities: Edinburg, Weslaco, Harlingen, Brownsville
Google Reviews
★★★★★
Had my Lasik surgery done with no problems, I can now see 20/20. Staff is very friendly and appointments are seen in a timely manner. Thank you for everything!
Jessica C.
★★★★★
The staff is awesome!!! Very helpful and friendly!!! The procedure was fast, the doctors were very comforting and very knowledgeable. I definitely recommend this place.
Dora G.
★★★★★
I have always thought about getting Lasik done but never went through with it because most well known companies in the area are very expensive. Vision Lasik Institute gave me a great payment plan and scheduled me within the same week I had gone in fo… Read More +r my consultation. The staff is great! Very friendly and didnt make me uncomfortable whatsoever. The day of my surgery, I was slightly nervous but I expected to be. Once I got into the surgery room, the doctor handed me a stuffed Tigger and placed a blanket over me to keep me warm. The procedure went extremely fast. 10-15 minutes tops. I was able to see the moment I got up from the table. No pain, no dizziness. I do not regret this decision at all. I never thought I'd be so happy to be able to see clear without my glasses or contacts. I encourage everyone who has thought about Lasik to head in to this location 🤗
Keesh P.
★★★★★
This is the best place to get Lasik if you are looking for value. The staff is caring, friendly and well informed of the processes and procedures.
Alicia C.
LASIK Doctors Servicing This Location:
More LASIK Eye Surgery Centers Nearby: