McAllen Surgery Center
The LASIK Vision Institute
1400 East Expressway 83, Suite 145
McAllen, TX 78503
For Appointments Call:
1-800-983-9741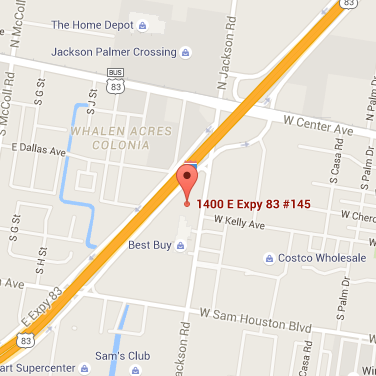 Our McAllen, TX LASIK eye surgery center serves the following surrounding Texas cities: Edinburg, Weslaco, Harlingen, and Brownsville
LASIK Doctors Servicing This Location:
Charles Miller
Dr. Charles Miller has been in practice for over 20 years and is an experienced ophthalmologist and refractive surgeon. Dr. Miller has performed thousands of laser vision correction procedures and s...
Nicholas Lancaster
Dr. Nicholas Lancaster is a refractive surgeon and specializes in laser vision correction and cataract surgery. EDUCATION | TRAINING Dr. Lancaster graduated from the University of...
Maximilian Psolka
Dr. Maximilian Psolka is an experienced refractive surgeon specializing in laser vision correction. Dr. Psolka was the leading refractive surgeon in the military over the past several years, performin...
More LASIK Eye Surgery Centers Nearby:
Austin Office
12416 Hymeadow Drive, Suite 100
Austin, TX 78750

San Antonio Office
40 NE I-410-LOOP, Suite 600
San Antonio, TX 78216

Houston Office
1800 Bering Drive, Suite 200
Houston, TX 77057