Houston Surgery Center
The LASIK Vision Institute
1800 Bering Drive, Suite 200
Houston, TX 77057
For Appointments Call:
281-502-7992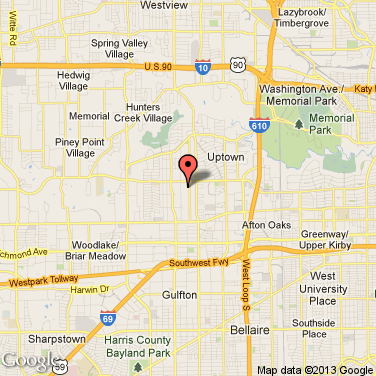 Our Houston, TX LASIK eye surgery center serves the following surrounding cities: Bellaire, Katy, Missouri CIty & Sugar Land.
Google Reviews
★★★★★
Despite negative reviews at some LVIs, that Is surely not the case at LVI Houston. I went to a couple lasik clinics for consulting since I wanted to figure out what would be the best route for ME. I can say that I did get to pick my own time and date… Read More + at LVI so that was a plus for me unlike other places where they told me what slots they had available so I had to work my schedule around theirs. The testing goes fairly quick and the technicians actually take the time to talk to you here so I did not feel like I was rushed through. I know everyone's vision is different so pricing will differ. Even though LVI was not the cheapest they also weren't the priciest but they did offer a much better package and warranty than the others which is ultimately the reason why I chose LVI (seriously my eyes were the last thing that I want to cheap out on).Lastly, all the staff members that I had the opportunity to communicate with were amazing. From the front desk receptionist to the surgeon, it honestly felt like I wasn't just another number. I would honestly recommend LVI Houston to anyone who is on the fence or considering lasik surgery.
vincent z.
★★★★★
Got my procedure done on February 28, 2019 and went in for a check up on May 22, 2019. After 3 months of stress from school and work, and practically dehydrating myself, my vision stayed 20/15 from 20/400. As someone who suffers from chronic dry eye … Read More +I was surprised my eyes were doing so well. The team at the Galleria location did a great job. I want to give a shout out to Dr. Tran. Super cool guy and very awesome doc. I dont remember the surgeons name, but he was awesome and patient because I freaked out pretty bad. The procedure was painless and really fast. The recovery was painless and fast as well. Highly recommend for your procedure if you're considering it. Changed my life.
Relaxation R.
★★★★★
I got the PRK procedure and even though it's only been one day and I have some blurriness from the healing, I can see better than before!! I am also so happy with the customer service I received from here especially Dennis and Dr. Tran. They definite… Read More +ly assisted every step of the way!! Thank you!! I am looking forward to being able to see better.
Alicia S.
★★★★★
The staff here was really nice. The Dr. was very knowledgeable about the procedure. Will recommend to others
Josue J.
LASIK Doctors Servicing This Location:
More LASIK Eye Surgery Centers Nearby: