Greenville Surgery Center
The LASIK Vision Institute
37 Villa Rd, Ste 112
Greenville, SC 29615
For Appointments Call:
1-800-983-9741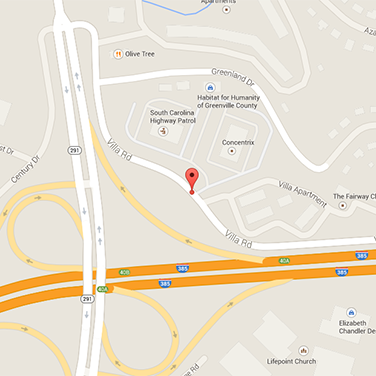 Our Greenville, SC LASIK eye surgery center serves the following surrounding cities: Spartanburg, Columbia, & Asheville.
Google Reviews
★★★★★
They were able to correct my vision from being off the charts (past 20/2600) to 20/20. Living with perfect vision without reliance on corrective lenses has been amazing. Worth every penny. Check with your insurance provider, I was able to get a disco… Read More +unt through mine, made it even more affordable. Friendly, professional staff, made me feel comfortable through every stage of the process.
Alan G.
★★★★★
I had my Last surgery done a little over a month ago...20/20 at 60, yeah I'll take that! I totally recommend them. I wasted a long time not having it done, don't wait! The staff are so friendly, and take the time to talk and listen! Thank you Lasik… Read More + Vision Institute for giving me back my vision!!!
Brenda P.
★★★★★
I could not be happier with my results from The LASIK Vision Institute. My daily wear contact lenses were beginning to do serious damage on my wallet and after yet another purchase of expensive contacts, I ran across The LASIK Vision Institute Groupo… Read More +n. After my initial consultation and talking it through with my husband, we decided to do it. April 26, 2019 changed my life. I think everyone is slightly nervous undergoing an operation but there was no need for even a slight nervousness. The entire team is competent, very experienced, efficient and friendly. The procedure was explained clearly and my questions answered. 3.5 hours post operation, whenever I woke up from my prescribed nap, I could see the roses outside my window! Without glasses or contacts! I was elated!! Two weeks post op I have better than 20/20 vision in both eyes. Wonderful doesn't even begin to describe it!
Carolyn M.
★★★★★
I am very happy with the outcome of my LASIK procedure. Staff is very friendly and always willing to answer any questions or concerns. I would recommend The LASIK Vision Institute to anyone that wants to have Lasik surgery. My eye sight is better tha… Read More +n 20/20 and I am extremely pleased with my overall experience. This is a great place.
Sandra W.
LASIK Doctors Servicing This Location:
More LASIK Eye Surgery Centers Nearby:
Duluth Office
3235 Satellite Blvd. Building 400, Suite 170
Duluth, GA 30096