Greenville Surgery Center
The LASIK Vision Institute
37 Villa Rd, Ste 112
Greenville, SC 29615
For Appointments Call:
1-800-983-9741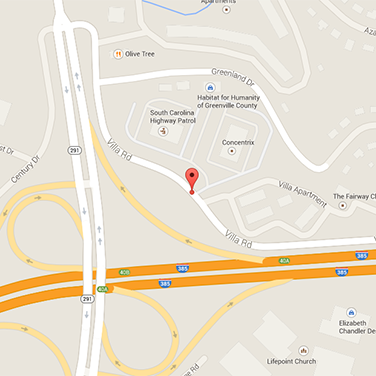 Our Greenville, SC LASIK eye surgery center serves the following surrounding cities: Spartanburg, Columbia, & Asheville.
Google Reviews
★★★★★
LVI of Greenville is a quick and efficient establishment without extra frills while still providing top notch care. I was nervous and on the fence about lasik for years but after doing some research I decided the Vision Institute provides the best ba… Read More +ng for buck. 3 years later and I recommend them to everyone. I consider it some of the best money ever spent. You wont regret choosing lasik, and the lasik vision institute is the way to go!
Arron M.
★★★★★
Very professional and friendly people. Love it.
nancy s.
★★★★★
LASIK took the time to make sure I was very comfortable and knew everything that was going on, great work! Very professional service
Griff s.
★★★★★
If you are thinking about having lasik done, look no further! The staff is absolutely wonderful and will take incredible care of you. Very thorough and informative when explaining the process. Amazing results with amazing staff! You'll wish you'd… Read More + had done it sooner.
Mayson C.
LASIK Doctors Servicing This Location:
More LASIK Eye Surgery Centers Nearby:
Duluth Office
3235 Satellite Blvd. Building 400, Suite 170
Duluth, GA 30096