Ft. Lauderdale Surgery Center
The LASIK Vision Institute
8211 W. Broward Boulevard, PH 2
Plantation, FL 33324
For Appointments Call:
1-800-983-9741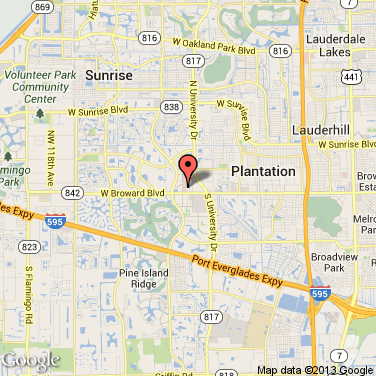 Our Fort Lauderdale, FL LASIK eye surgery center serves the following surrounding cities: Sunrise, Oakland Park, Hollywood, Davie, Pembroke Pines, Coral Springs, Weston, Coral Springs, Pompano Beach, Margate, Tamarack, Deerfield Beach, Boca Raton, Miramar, Miami Gardens.
Google Reviews
★★★★★
The LASIK Vision Institute was simply AMAZING! They will take care of you and your vision. I personally recommend LVI to people who are ready to regain their Vision.
Dadrian W.
★★★★★
Yesterday I got lasik done! I been wanting to do it foreverrrr!!! Not going to lie I was nervous going in, because I'm awake and my eye was just being numbed. The right eye was a piece of cake! The left was a little harder cause now I knew what was… Read More + coming. And they have to suction the eye so u have to focus on the light they tel you to. After a couple tries my eye needed a break, but we got right back into it 30 mins later and it was a success. I would recommend anyone to do it! Staff at this location was so supportive and thoughtful.
Julzz M.
★★★★★
Staff is super nice and very helpful. Fast and easy process all around for Lasik.
Luis M.
★★★★★
Loved this place. Every one was nice and everything went smooth. If you wear glasses and/or contacts, it's so worth it to get the procedure.
tina L.
LASIK Doctors Servicing This Location: