Denver Surgery Center
The LASIK Vision Institute
4100 E. Mississippi Ave., Suite 105
Glendale, CO 80246
For Appointments Call:
720-414-7992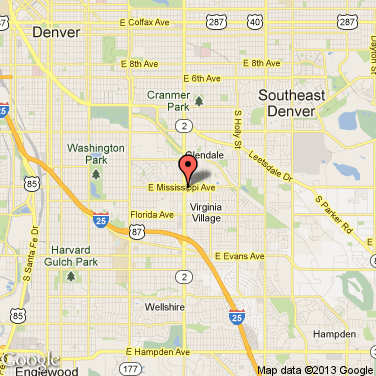 Our Denver, CO LASIK eye surgery center serves the following surrounding cities: Arvada, Aurora, Centennial, Commerce City, Englewood, Glendale, Lakewood, Littleton, Westminster.
Google Reviews
★★★★★
Everyone is extremely friendly, and the entire system is really efficient. I had my surgery a week ago and I'm already at 20/20. They have payment plans which really helps. I would recommend to anyone considering lasik.
Josie S.
★★★★★
This place is amazing. I had my prk procedure yesterday. No pain meds today and my vision is amazing. Every single person here is phenomenonal. The fear is in your mind. Have procedure. I recommend this facility and every person inside to anyone want… Read More +ing to see with greater clarity.
David A.
★★★★★
Great experience, staff and Drs. Very knowledgeable. Little to no wait time to get in for consultations, surgery and follow up appointments. Highly recommend, Thank you Todd Myers
Todd M.
★★★★★
I got referred here by a friend, and I couldn't be happier with the results. I walked out with 20/10 vision and I don't miss my glasses or contacts at all! I opted to do the lazer cut instead of the mechanical and the procedure was a little freaky,… Read More + but now I have Eagle Vision!! Thanks LVI!!
Jackson E.
LASIK Doctors Servicing This Location:
More LASIK Eye Surgery Centers Nearby: