Buffalo Surgery Center
The LASIK Vision Institute
4927 Main Street
Amherst, NY 14226
For Appointments Call:
1-716-246-5000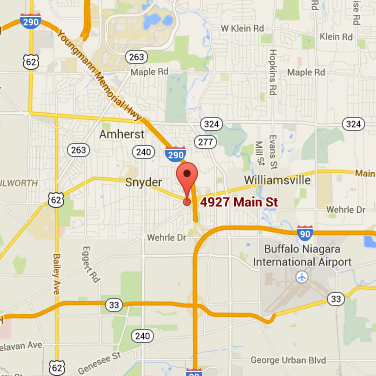 Our Buffalo, NY LASIK eye surgery center serves the following surrounding cities: Buffalo, Amherst, Niagara Falls, Rochester and Syracuse.
Google Reviews
★★★★★
I am 100% satisfied with my experience at LIV. I made an apt only because I received an email about Lasik, my consultation was within days. I figured I would just get pricing and maybe proceed within a year or so. I met Alyssa and Shelby at my consul… Read More +tation and they were phenomenal. I had very few questions due to their detailed consultation with me. Next thing you know I schedule my Lasik apt 9 days out thanks to their convenient financing! Both Alyssa and Shelby have been there every step of the way for me, allowing me to be at complete ease prior to the procedure. Dr.Jackson was amazing, he explained the procedure thoroughly so I knew exactly what to expect. The procedure took 11 minutes including the time I spent talking to Dr.Jackson. Day after surgery, I see great and am in absolutely no pain! I will recommend LIV to all my family and friends!
Adrienne D.
★★★★★
Just left my 3 month appointment. I'm seeing in 20/15 now. I think i was 80/20 before. I was terrified before the procedure, to the point that i sat in my car debating on showing up; i ended up an hour late. It was worth it. The staff is really goo… Read More +d, they actually care about their patients. I recommend
American D.
★★★★★
Experienced Caring staff Made for a wonderful experience that the results were worth the money.
Paul S.
★★★★★
This has been an amazing experience. All of the staff is completely wonderful and friendly! My vision is almost 20/20 in both eyes and it hasn't been a week. My eyes feel amazing after 20+ yrs of wearing contacts! I feel free! I would recommend thi… Read More +s to anyone who's waited and been unsure, I have always wanted this for 10yrs or more & I am so glad I did this and chose them to do it for me!!
Jeanne P.
LASIK Doctors Servicing This Location:
More LASIK Eye Surgery Centers Nearby: