Seattle Surgery Center
The LASIK Vision Institute
11245 SE 6th Street, Suite B-140
Bellevue, WA 98004
For Appointments Call:
425-471-6992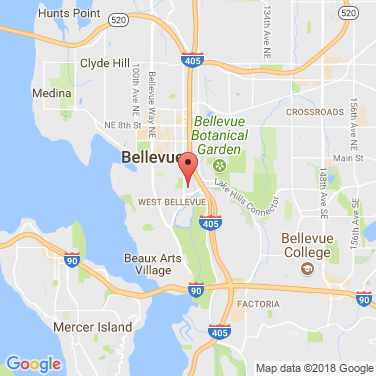 Our Seattle, WA LASIK eye surgery center serves the following surrounding cities: Bellevue, Kirkland, Redmond, Renton & Sammamish
Google Reviews
★★★★★
From start to finish, I had an amazing experience at LVI for my LASIK surgery! Starting with the staff- you can genuinely tell that everyone here loves what they do and where they work. They are fun, professional and most of all very knowledgeable ab… Read More +out the services they provide. I love that most of the staff have gotten corrective eye surgery themselves so they know what they're recommending and what to expect. The day of my surgery, I was in and out of the clinic in 1 hour and 5 minutes exactly which was amazing! I was able to be scheduled just one day after my consultation and since I don't have work until Friday, I figured why the hell not. I check in and after I fill out my paperwork, I'm immediately escorted back to sign my life away and then headed to do pre-op fun! Note: Nobody here ever tried to upsell me on anything. I was told that since my eyes were not dry I didn't need plugs so they weren't even mentioned. Since my corneas were on the thinner side I wouldn't be able to get a LASIK retouch so I was told I wasn't eligible for lifetime insurance and it was left at that. I could trust that if the doctors were recommending me something, it's genuinely because it would be beneficial so I went ahead and opted for the contu
Faeiryne F.
★★★★★
Great experience. I was nervous for the procedure but they give you a chill pill before and the procedure. It didn't hurt at all and was done in less than 10 minutes. The surgeon was really nice and he talked me through the whole procedure while do… Read More +ing it which helped a lot. The doctor is super cool she was really helpful with all the questions I had. The office staff was also really professional and helpful. They did a great job with everything that needed to be done. My vision turned out great. The first day after surgery as the numbing drops wore off I had a burning sensation that kinda came and went but I slept for like 5 hours after I got home. I had a bit of a headache too but aspirin helped with that. I was able to see almost right away just blurry. Today I did my post OP a day later and my vision is 20/15. No pain or headache I feel normal. The only thing is light is still a little fuzzy but it's getting better with time. I'd recommend this office to anyone considering it even if they were a little freaked out about doing it; it's so quick that you don't have time to melt down and the pill helps you chill out. Worth it!!!!!!
ta A.
★★★★★
The process was easy. I can now see 20/15. The staff is fun and professional.
Jeff A.
★★★★★
The Lasik Vision Institute has changed my life. Struggling with poor vision since I was 7, needing glasses and having to wear contacts most of my life, I am now happy to say I am at 20/15 vision. The staff at Lasik Vision has been extremely kind and … Read More +helpful throughout the whole process. They answered any questions I had and made the experience a very easy and simple process. The procedure was quick, lasting about 10 minutes or so. My experiences prior to the procedure were excellent and I cannot emphasize how kind and caring the staff has been to me. I recommend Lasik Vision Institute to anyone looking to change their life and assure you that you will be in the comfort and care of a well trained staff.
Ricardo A.
LASIK Doctors Servicing This Location: