Milwaukee Surgery Center
The LASIK Vision Institute
400 North Executive Drive, Suite 101
Brookfield, WI 53005
For Appointments Call:
262-710-7003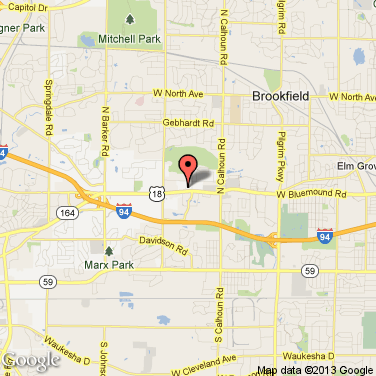 Our Milwaukee, WI LASIK eye surgery center serves the following surrounding cities: Brookfield,Elm Grove, Pewaukee, Waukesha, Wauwatosa West Allis
Google Reviews
★★★★★
Brittany, the Manager went beyond all my expectations! I can't even describe how amazing I felt after talking with her! she's the absolute best with customer service!! the whole team did there job A+ I will be sending everyone I know your way so they… Read More + can feel amazing as well! you made my mom a believer n I see her getting Lasik also! the whole process was painless n actually very relaxing to me surprisingly!! Thank you so much Brittany & Dr. Ireland
Maricel M.
★★★★★
I had my surgery Feb. 10th 2016 with Dr. Ireland. I had PRK with contoura upgrade, and I am still seeing 20/15 two years later. During the procedure the staff took their time and showed the most amazing care for me. Amalia was one of the technicians … Read More +working in the OR with Dr Ireland and she made me feel so at ease, and took excellent care of my at my one day post op appointment as well. The optometrist Dr Smith gave me the best eye exam I have ever had, it was very well explained. I felt 100% confident on my options and secure that I was an excellent candidate for the PRK procedure with contoura. Max The patient counselor was so calming prior to my procedure. I was nervous and he calmed my nerves by simply just being there for me. He too had the prk procedure and comforted my anxiety prior to the procedure telling me how much I was going to love my vision! Hands down I love it, he was right! Noi the ophthalmic technician who helped with the testing process explained every scan she did prior to my procedure in detail. She kept the appointment fun and had a great personality. Having been in glasses and contacts since I was in fourth grade, LASIK has offered my life freedom. And with their lifetime insuran
Brittney F.
★★★★★
Very very smooth process. The moment I contacted them for the first time, I was reached out to immediately for my initial visit to see If I was a good fit for Lasik. I was greeted by a bunch of wonderful people and the first visit was about 2 hours. … Read More +They answer every single question you have. I was able to book the actual surgery right after I got cleared for it! From the first time I reached out to them to the finish of my surgery was about 10 days. 2 appointments only and it's very affordable for how life changing this is. Brittney, the manager, was incredible during the ENTIRE process. She made it super easy and calming. Dr. Ireland has done the procedure on both of my parents and myself now. Great guy and very good at what he does. It took him about 6 minutes to finish both of my eyes! I highly recommend this place and I couldn't be happier with the results and it's only day 1!
Wey2fit W.
★★★★★
The surgery was very easy and painless. I didn't take any anti-anxiety meds for it.
Daniel C.
LASIK Doctors Servicing This Location:
More LASIK Eye Surgery Centers Nearby: