Fresno Surgery Center
The LASIK Vision Institute
7088 N. Maple Ave, Suite 105
Fresno, CA 93720
For Appointments Call:
1-559-556-7000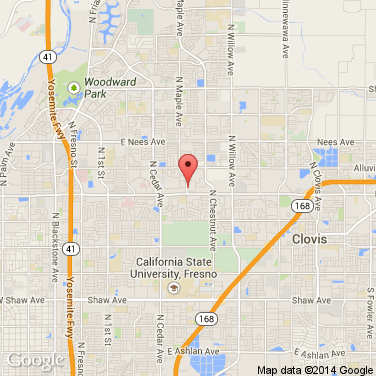 Our Fresno, CA LASIK eye surgery center serves the following surrounding cities: Clovis, Bakersfield, Merced, Visalia, & Hanford.
Google Reviews
★★★★★
all the staff are very professional and friendly. Made the whole experience a breeze. Would definately recommend for anyone looking for lasik procedure.
Kong T.
★★★★★
The Lasik Vison Institute, is hands down all around awesome! From the staff to the service and care, a 5 star rating can't measure how great this place was. They took the time to answer all questions and made the whole process a walk in the park! T… Read More +hank you guys!
eric c.
★★★★★
I've always considered getting laser eye surgery but knew it would be pretty pricy. When I saw that LVI was offered on Groupon I was at first skeptical because of how cheap and affordable it was compared to other lasik offices. However, I did not h… Read More +esitate to make the call for a consultation, and I was able to to set that appointment not even a week out. When I visited the office in Fresno, I immediately felt like family. The staff are very friendly and extremely informative. The way they conduct their business is highly professional and the environment is comfortable. Within 2 weeks I was able to schedule the procedure to be done. The surgery is real quick, with me getting the PRK with Contoura, each eye took about 15-20 seconds each. The process did not take long at all. My eyes are just a little dry but that's a given with this procedure, and the doctor prescribes you the best eye drops for your healing process. I'm so happy to be able to see so clearly without glasses, and the team at LVI made this all possible. I highly recommend the LASIK Vision Institute to any individual who's considering the procedure.
Benjamin J.
★★★★★
Chris is the best!! Overall it was the best experience of my life . Everyone is so nice & they take great care of their patients. I highly highly recommend them .
Shada J.
LASIK Doctors Servicing This Location:
More LASIK Eye Surgery Centers Nearby: