Fort Myers Surgery Center
The LASIK Vision Institute
13774 Plantation Rd Suite 100
Fort Myers, FL 33912
For Appointments Call:
1-239-224-7130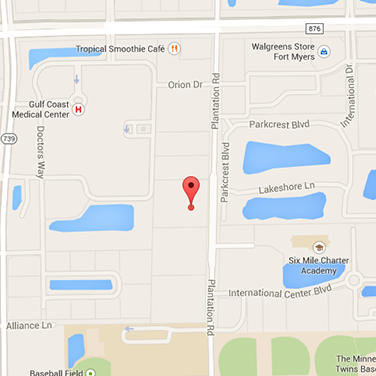 Our Fort Myers, FL LASIK eye surgery center serves the following surrounding cities: Cape Coral, Lehigh Acres, Estero, Bonita Springs, Punta Gorda, Port Charlotte, & Naples.
Google Reviews
★★★★★
Absolutely life changing. I had my consultation on a Thursday and jokingly said I'd like to have the lasik surgery the following day. Friday 3pm I had my surgery which was completely pain free and quick. The Doctor and all the staff are amazing and… Read More + definitely made my feel comfortable. Saturday I went in for my 24hr follow up and guess what..... 20/20 Recovery has been a breeze. Definitely recommend this place. I'm forever grateful to Dr.Okoye for changing my life ❤️
Elianne R.
★★★★★
I had considered Lasik for some time as I hated to have one pair of glasses to read and then another to see distance. Mainly, I want to say a big thank you to the people I encountered as I visited the office and talked about my options. The first pe… Read More +rson I met was Jamie. She is incredible with a great personality and made me feel very welcome. As I got to talk with her more, I found her to be very professional, charming, and extremely helpful. Next, I met Amy, who did my initial exam. Amy is lovely and did an excellent job with the various eye tests. She quickly answered each question I had and was very patience. The exam was comfortable and thorough. After the exam, Amy gave me options, and we decided that Mono Vision would work best for me to see both near and far without glasses. The process is to have one eye focused on reading and the other for distance. Not all folks can adjust to this. She then asks me if I would like to try contacts for a week to see if this would work for me, I said absolutely, and she then inserted the contacts for me, I would not be able to do that myself as I hate putting things in or near my eyes. After a week of wearing the contacts, I was sold, I didn't have a problem with the two different eye s
Chris C.
★★★★★
Everything has been done professionally and all questions have been answered. Everything went like clockwork and my eyes are improving every day.
Heidi H.
★★★★★
I felt comfortable at the Lasik Vision Institute from the moment I had my first consultation and was warmly welcomed by the front desk staff. I loved the details I was given before the procedure and they were always available to answer any questions … Read More +I had. I was very nervous about the surgery but the staff and Dr. Ireland made me feel at ease. He talked me through the entire procedure before we started which was great because then I knew exactly what to expect. During the procedure he did the same, explaining every time I would feel anything. The surgery itself was so quick and painless. There was some discomfort but nothing painful like you would imagine. The day after I couldn't believe how good my vision was. It's been 3 weeks now and I can see so clearly! I would recommend this surgery to anyone who is eligible - it is truly life changing! Thanks Lasik Vision Institute!
Ruby C.
LASIK Doctors Servicing This Location:
More LASIK Eye Surgery Centers Nearby:
Tampa Office
3030 N Rocky Point Dr. West, Suite 170
Tampa, FL 33607