Cincinnati Surgery Center
The LASIK Vision Institute
9825 Kenwood Road, Suite 103
Blue Ash, OH 45242
For Appointments Call:
1-513-901-6200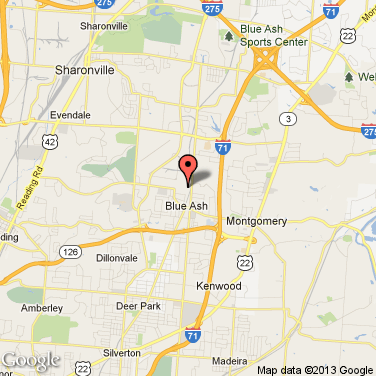 Our Cincinnati, OH LASIK eye surgery center serves the following surrounding cities: Hamilton, Middletown, West Chester.
Google Reviews
★★★★★
I originally heard of LVI through Groupon. I asked around and found that I knew two people who had already had the Lasik procedure done using the Groupon. They were both happy with their experiences so I decided to check it out. I scheduled my free… Read More + consultation. I was advised to stop wearing my contacts for several days beforehand as that could affect the measurements. Everyone was very pleasant when I went in. The office is easy to find with plenty of parking. They had free coffee and mints in the waiting area. One of the techs had some trouble getting good scans of my eyes. We found that my eyes were still dry from the contacts so we scheduled another checkup and the procedure itself. At this point I was still unsure if I would get the Contoura or stick with the Wave front. The second consultation put me more at ease. The scans ended up being consistent and the doctor recommended Contoura. The advertised price seemed very fair - about the same amount that I projected to spend on contacts and solution over ten years. I did end up upgrading to the Contoura package on the doctor's recommendation (and with some of my own research). This brought my out-the-door cost to $2400. I still feel that it is a fair price. As for the pro
Nick M.
★★★★★
The improvement in y distance vision is unbelievable. All of the staff are very personable and nice. They handle patients well and the wait times are pretty minimal.
Rebecca H.
★★★★★
The staff at Lasik Vision Institute are so kind and encouraging and were so easy to work with. I was extremely nervous before the procedure but at each step of surgery day they did such a good job explaining the process that I wasn't nervous at all… Read More +! I couldn't be happier with my results and I highly recommend LVI as the perfect place to get your procedure done.
Rachel M.
★★★★★
Staff is super friendly and professional Surgery was well done and quick .
Tonia D.
LASIK Doctors Servicing This Location:
More LASIK Eye Surgery Centers Nearby: