Cincinnati Surgery Center
The LASIK Vision Institute
9825 Kenwood Road, Suite 103
Blue Ash, OH 45242
For Appointments Call:
1-513-901-6200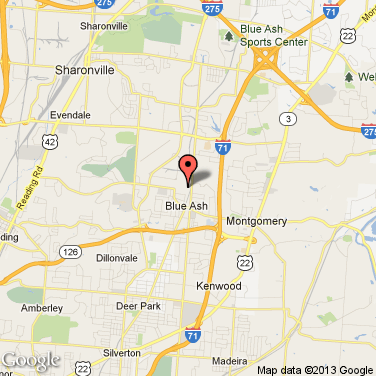 Our Cincinnati, OH LASIK eye surgery center serves the following surrounding cities: Hamilton, Middletown, West Chester.
Google Reviews
★★★★★
This office is amazing the staff is wonderful and I would recommend them to everyone two years ago I moved here from Michigan and was looking for a good place to go to correct my vision when I came here i was 20/200 without out my glasses basically… Read More + i was blind and Now I am 20/20 and 2 years later vision is still amazing i love these guys
Tynetta J.
★★★★★
The staff at Lasik Vision Institute is always very friendly, courteous, and informative. I appreciate all they've done to restore my vision and allow me to toss my glasses for good! Thanks Lasik Vision Institute!
Brian F.
★★★★★
The entire experience was solid. The staff was very friendly and helpful, I was given all the information I would ever need to get through my surgery and have a quick recovery.
Tyler P.
★★★★★
Wow what a great experience. The staff was so nice and so thorough with everything. And Dr. Lawrence was great at directing me through the surgery. I was pretty nervous prior to the surgery, but they did a great job keeping me calm. The surgery itsel… Read More +f is 15 min and painless. Little discomfort with the suction, but otherwise awesome. The 4-6 hours afterwards is pretty uncomfortable if you can't sleep. Have your artificial tears ready, you're going to need them. But after that initial 4-6 hours, the discomfort subsides greatly. The next morning it was totally gone. I have 20/15 vision and could not possibly be more thrilled. Suggestions for anyone considering or getting surgery, absolutely DO NOT watch a video of a LASIK surgery before, it'll be unnerving. Also prepare to be at the office 2-4 hours for the surgery. There is a lot of waiting. Thanks so much to staff for everything!
Elliott S.
LASIK Doctors Servicing This Location:
More LASIK Eye Surgery Centers Nearby: