Birmingham Surgery Center
The LASIK Vision Institute
3595 Grandview Parkway, Suite #125
Birmingham, AL 35243
For Appointments Call:
1-205-319-5990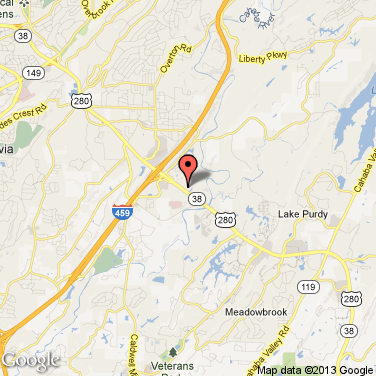 Our Birmingham, AL LASIK eye surgery center serves the following surrounding cities: Hoover, Homewood, Bessemer, Vestavia, & Trussville.
Google Reviews
★★★★★
I had my Lasik surgery at the Birmingham, AL office on 8/10/19 and I am very satisfied with the results. The staff and the doctors are all great. They did a very thorough examination and consultation when I went for my free visit on 7/25/19 and eve… Read More +rything was checked and rechecked the day of my surgery on 8/10/19. Dr. Bret Fisher answered any questions and concerns that I had before the surgery and the office manager Stewart was also very helpful and answered all of my questions both on the free consultation visit and the day of surgery. The whole staff did a great job. I highly recommend this office and the Lasik procedure if you are nearsighted like I was. My vision was 20/400 and now I have 20/20. I do have to wear readers but I was wearing them before my surgery. There was no pain during surgery and afterwards there was no eye pain problems. Just follow the instructions and use the drops that are prescribed for after surgery.
Kim M.
★★★★★
Excelente trabajo se los recomiendo . Yo tenía miopía,astigmatismo e hipermetropía y ahora tengo mi vista 20/20 y la verdad es que estoy muy agradecida con la clínica y todo su equipo .100% confiable .
PrincessValerie D.
★★★★★
A common theme you will see in most of the reviews is that the staff was/is amazing and very friendly and this is 100% true. The procedure was quick and the next morning I was able to read my alarm clock for the first time in years without having to … Read More +put my glasses on! I am at my 2nd annual check up and my vision is still at 20/15! I highly recommend the Lasik Vision Institute.
bhavik p.
★★★★★
I was a little nervous but the staff cured that very quickly. Great staff very friendly, they all took time to answer all my questions. I would definitely recommend Lasik Vision institute to all my friends.
Brent W.
LASIK Doctors Servicing This Location:
More LASIK Eye Surgery Centers Nearby:
Duluth Office
3235 Satellite Blvd. Building 400, Suite 170
Duluth, GA 30096